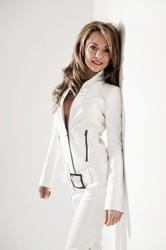 I just couldn't have asked for a warmer, kinder or more positive reaction to my Fitness Model Finishing School.
(PRWEB UK) 14 July 2014
"The decision was so simple. Such was the response from our events that I really didn't have a choice. I just couldn't have asked for a warmer, kinder or more positive reaction to my Fitness Model Finishing School," says founder and principal, Alexandra Wilson.
The response has been so positive that Alexandra and her team are even taking the school to the United States. There will be two more dates in London followed by events in both New York and Los Angeles.
"To have had so many requests to take the school to the States has been great," says Alexandra. "We always felt like we were doing something a bit special. It looks like we were right."
Diary dates:
27th & 28th September, London
15th & 16th November, London
22nd & 23rd November, New York
29th & 30th November, Los Angeles
While the aim of the experience is to enable women to celebrate their fitness journey, to build a pro portfolio and have plenty of fun in the process, the outcomes have been as varied as they've been positive. The discovery of huge new reservoirs of confidence and self-belief is a consistent theme amongst attendees.
Alexandra says "The school is part finishing school, part personal consultancy, part bootcamp and part academy - with an emphasis on fun, celebration and confidence-boosting. Students will leave with hundreds of tips, tricks and modelling secrets – a portfolio of beautiful photographs to celebrate their transformation and a video of the weekend. Quite a package.
Student, Christina King, whose goal was to improve her confidence and to learn how to get into the fitness industry said "It was amazing. I learned so much. I learned about mindset and being positive – and that really motivated me, and made me feel I can really do these things. I had my hair and make-up done properly for a photoshoot which was fantastic – everyone was so supportive and I learned all about posing for the camera and making the best of yourself. I also found out about the fitness industry, how to brand myself, how to approach magazine editors and PR tips."
With only 10 places available on each course and with each course being led personally by Alexandra Wilson herself potential attendees are encouraged to apply as soon as possible.
About Alexandra
Alexandra is a fully qualified personal trainer with a wealth of experience in the industry, creating personalised fitness and nutrition plans and online coaching programmes to inspire and motivate people to look, feel and be their best.
She recently became one of the first people in the world and one of only 20 selected from the UK to be given the status of 'Physique Elite Master Trainer' by world-renowned trainers Neil Hill and Kris Gethin. She has been featured in modelling shots in, and written articles for, a variety of magazines in the UK and abroad (Red, Health & Fitness, Now, Women's Fitness, Ultra Fit, Fit and Firm, ExtraFit and Fitnorama). She is an ambassador for the 'Better Bodies' range of fitness clothing, the face of Biondi Couture's fitness competition range and Mark Anthony's 'Body Trainer' exercise device.
To find out more about Alexandra, receive a free 'I will make you lean' e-book, sign up for her free e-news containing tips, advice and information and receive details of new programmes as they launch, visit: http://www.alexandrawilson.com.
To read about Alexandra's Fitness Model Finishing School and to apply, visit: http://www.fitnessmodelfinishingschool.com.