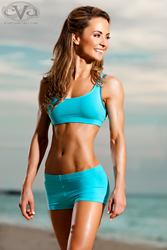 I want to show other women that you can train hard and still look very feminine.
(PRWEB UK) 12 July 2014
Arguably the most advanced, scientific and evolved training system available, Yoda 3 Training (Y3T) applies a set of unique training principles devised by IFBB Pro bodybuilder, trainer and nutritionist Neil Hill. Using low, medium and high rep weeks, the program is engineered to elicit ultra specific muscular responses that lead to accelerated fat loss and improved muscle tone as well as better cardiovascular health, muscle recovery and mental focus.
"I've been a fan of the Y3T training system for a long time now," says Alexandra Wilson. "Neil has been at the top of his game for more than 24 years, and the Y3T training method is the product of all the amazing knowledge and experience that he's built up. I can't wait to start the transformation and take my body to the next level."
Though many already enjoy the rapid results that Y3T delivers, Alexandra is using the challenge to show that the system is applicable to women of all ages. With her 40th birthday looming, now seemed like the perfect opportunity for her to lead by example.
"I'm giving it to myself as an early 40th birthday present," she says. "As well as earning the six pack I've been promising myself for years, I also want to show other women that you can train hard and still look very feminine. Y3T is a great way to get lean, stay lean and develop curves in all the right places."
More than anything though, Alexandra's journey will show clearly that it's perfectly possible for women of all ages to take fresh and innovative new approaches to their fitness and physique. "For so many women confidance is an issue," says Alexandra. "Many of the women I discuss my Fitness Model Finishing School with are in need of a confidence boost. If my Y3T transformation can inspire just a little bit of extra confidence then that together with the amazing benefits Y3T offers has the potential to deliver incredibly positive outcomes. Which, after all, is what I'm all about."
About Alexandra
Alexandra is a fully qualified personal trainer with a wealth of experience in the industry, creating personalised fitness and nutrition plans and online coaching programmes to inspire and motivate people to look, feel and be their best.
She recently became one of the first people in the world and one of only 20 selected from the UK to be given the status of 'Physique Elite Master Trainer' by world-renowned trainers Neil Hill and Kris Gethin. She has been featured in modelling shots in, and written articles for, a variety of magazines in the UK and abroad (Red, Health & Fitness, Now, Women's Fitness, Ultra Fit, Fit and Firm, ExtraFit and Fitnorama). She is an ambassador for the 'Better Bodies' range of fitness clothing, the face of Biondi Couture's fitness competition range and Mark Anthony's 'Body Trainer' exercise device.
To find out more about Alexandra, receive a free 'I will make you lean' e-book, sign up for her free e-news containing tips, advice and information and receive details of new programmes as they launch, visit: http://www.alexandrawilson.com.
To read about Alexandra's Fitness Model Finishing School and to apply, visit: http://www.fitnessmodelfinishingschool.com