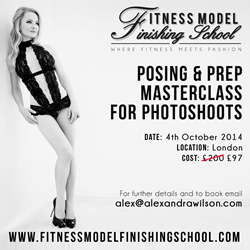 I'm determined to help my students build the best portfolio possible
(PRWEB UK) 12 September 2014
Fitness Model Alexandra Wilson says "I see so many talented people. People who've worked really hard on their physiques, eat well, do all the right things and look fantastic. They achieve so much but the minute a camera is on them they can fall to pieces. It's such a waste. You'll go nowhere in this industry without a really strong portfolio. I'm determined to help my students build the best portfolio possible."
The course not only covers all the essential modelling techniques such as posture, posing, body language and facial expressions but also includes a vast amount of important production information - for example how to understand the basics of lighting, how to choose the ideal photographer, creating mood boards and dozens of other tips on styling, hair, tanning and make up.
In addition, Alexandra will be sharing her deep industry experience, shedding light on how to create impressive portfolios, identifying exactly what agencies and photographers are seeking from models and advising on matters legal and contractual.
"I've put a huge amount into the package" concludes Alexandra. "Information rich, highly practical and affordable. Exactly the kind of photoshoot do's and don'ts that would have saved me a whole load of time, money and frustration when I was first building my portfolio. Perfect for anyone looking to develop their career."
About Alexandra
Alexandra is a fully qualified personal trainer with a wealth of experience in the industry, creating personalised fitness and nutrition plans and online coaching programmes to inspire and motivate people to look, feel and be their best.
She recently became one of the first people in the world and one of only 20 selected from the UK to be given the status of 'Physique Elite Master Trainer' by world-renowned trainers Neil Hill and Kris Gethin. She has been featured in modelling shots in, and written articles for, a variety of magazines in the UK and abroad (Red, Health & Fitness, Now, Women's Fitness, Ultra Fit, Fit and Firm, ExtraFit and Fitnorama). She is an ambassador for the 'Better Bodies' range of fitness clothing, the face of Biondi Couture's fitness competition range and Mark Anthony's 'Body Trainer' exercise device.
To find out more about Alexandra, receive a free 'I will make you lean' e-book, sign up for her free e-news containing tips, advice and information and receive details of new programmes as they launch, visit: http://www.alexandrawilson.com.
To read about Alexandra's Fitness Model Finishing School and to apply, visit: http://www.fitnessmodelfinishingschool.com