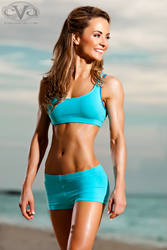 (PRWEB UK) 16 July 2014
Only the best are accepted to become a Physique Elite Advanced Nutrition Specialist. There is a rigorous application process, followed by an intense course from one of the most recognised and respected sports nutritionists in the world, Rehan Jalali. International fitness expert and fitness model Alexandra Wilson was one of the lucky ones who was accepted.
Rehan has been the personal nutrition and health consultant for numerous celebrity clients, such as Sylvester Stallone, Ben Affleck, Nicole Scherzinger, Halle Berry, Forest Whitaker, Debra Messing, plus many more. He is president of the Supplement Research Foundation and has appeared in and published over 500 articles in national and international magazines including Newsweek, Men's Health, Muscle and Fitness, Men's Fitness, US Weekly, People, Ironman, Physical, Muscle Mag International, Oxygen, and many more. He is author of "The Six Pack Diet Plan" and "The Sports Supplement Buyers Guide" and co-author of "The Bodybuilding Supplement Guide".
Clients looking for nutrition advice from Alexandra Wilson will now benefit from the very latest advanced knowledge and advice on how to slash body fat and gain precious lean muscle mass, including:

What to do before, during and after a workout to increase your gains by 300%
Amino acids and which ones will boost your workouts
The truth about carbohydrate loading
Super foods and fat burning foods that work
How to maximize insulin levels to enhance nutrient absorption
The best supplements for results including CLA, arginine, BCAA's, and ZMA
Natural hormone modification
The latest information on creatine and how to maximize its use
Key steps to recover from a training injury and joint support supplements
Sleep and its role in growth
The immune system and how to reduce sickness
Clear information about protein bars, energy drinks, and meal replacement powders
Alexandra qualified for Physique Elite Advanced Nutrition Specialist status as part of her ongoing training as a 'Physique Elite Master Trainer'. Last year she became one of the first in the world, and one of only 20 who qualified for Physique Elite Master Trainer status. The programme was launched in July 2012 by giants of the fitness world; Neil Hill, Kris Gethin and BodyPower Expo founder Nick Orton, and is set to be a global personal training phenomenon.
Physique Elite provides quality, up to date and evidence based training to a strict selection of elite class personal trainers, across four initial disciplines: Neil Hill's 'Y3T Elite Trainer Certificate, Kris Gethin's 'DTP Transformation Specialist Certificate', Jim Stoppani's, 'Shortcut to Size Certificate', and Rehan Jalali's 'Advanced Nutrition Specialist'. These certificates are fast becoming 'must have' qualifications in the world of elite personal training.
Alexandra will now be bringing the benefits of this highly-developed, science-based knowledge to her own bespoke coaching programmes.
About Alexandra
Alexandra is a fully qualified personal trainer with a wealth of experience in the industry, creating personalised fitness and nutrition plans and online coaching programmes to inspire and motivate people to look, feel and be their best.
She recently became one of the first people in the world and one of only 20 selected from the UK to be given the status of 'Physique Elite Master Trainer' by world-renowned trainers Neil Hill and Kris Gethin. She has been featured in modelling shots in, and written articles for, a variety of magazines in the UK and abroad (Red, Health & Fitness, Now, Women's Fitness, Ultra Fit, Fit and Firm, ExtraFit and Fitnorama). She is an ambassador for the 'Better Bodies' range of fitness clothing, the face of Biondi Couture's fitness competition range and Mark Anthony's 'Body Trainer' exercise device.
To find out more about Alexandra, receive a free 'I will make you lean' e-book, sign up for her free e-news containing tips, advice and information and receive details of new programmes as they launch, visit: http://www.alexandrawilson.com.
To read about Alexandra's Fitness Model Finishing School and to apply, visit: http://www.fitnessmodelfinishingschool.com.