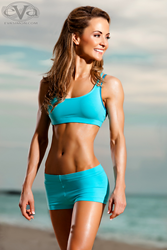 Alexandra is hard-working, intelligent, knowledgeable and she gets results.
(PRWEB UK) 22 July 2014
Neil Hill, creates revolutionary training programmes which take athletes to the top of their game. A recent example is fellow Welshman and Mr Olympia 212 Flex Lewis. Alexandra Wilson will now be bringing the benefits of his highly-developed, science-based Y3T programme to her own bespoke coaching programmes for women – including telephone/remote coaching, and the Elite Bikini Body Confidence Coaching Programme.
Neil Hill developed the programme as a result of injuries he incurred as a bodybuilder. He is an IFBB professional bodybuilder and elite national level swimmer. In order to allow his joints' connective tissues to recover, he began training with higher repetitions, limiting the amount of heavy training he did. Not only did the inflammation within the joints significantly decrease, he also found his muscle development noticeably improved as well.
Following extensive further research and development, he created Y3T (Yoda 3 Training), a unique training system which works over a three week cycle, targeting all of the muscles. It has been specifically designed to: promote lean muscle tone, accelerate fat loss, promote injury prevention, improve cardiovascular health, improve mental focus, improve muscle recovery and optimise overall health. During each cycle, participants increase their repetition range while changing their intensity rate in order to produce noticeable changes in their physique.
Y3T is an integral part of the Physique Elite Master Trainer programme, launched by world-renowned athlete Kris Gethin, BodyPower Expo founder Nick Orton and Neil Hill. Alexandra was one of the first in the world, and one of only 20 to qualify as a master trainer for the programme.
Physique Elite, provides quality, up to date and evidence based training to a strict selection of elite class personal trainers, across four initial disciplines: Neil Hill's 'Y3T Elite Trainer Certificate, Kris Gethin's 'DTP Transformation Specialist Certificate', Jim Stoppani's, 'Shortcut to Size Certificate', and Rehan Jalali's 'Advanced Nutrition Specialist'. These certificates are fast becoming 'must have' qualifications in the world of elite personal training.
Neil Hill, of Physique Elite, said, "Alexandra is hard-working, intelligent, knowledgeable and she gets results. I have no time for fitness professionals who are all 'smoke and mirrors'. Alexandra isn't: she's the real deal, and this programme is a game-changer in the online fitness world. We were really pleased to train her in our new programmes and are glad to have her as part of our elite group of Master Trainers."
About Alexandra
Alexandra is a fully qualified personal trainer with a wealth of experience in the industry, creating personalised fitness and nutrition plans and online coaching programmes to inspire and motivate people to look, feel and be their best.
She recently became one of the first people in the world and one of only 20 selected from the UK to be given the status of 'Physique Elite Master Trainer' by world-renowned trainers Neil Hill and Kris Gethin. She has been featured in modelling shots in, and written articles for, a variety of magazines in the UK and abroad (Red, Health & Fitness, Now, Women's Fitness, Ultra Fit, Fit and Firm, ExtraFit and Fitnorama). She is an ambassador for the 'Better Bodies' range of fitness clothing, the face of Biondi Couture's fitness competition range and Mark Anthony's 'Body Trainer' exercise device.
To find out more about Alexandra, receive a free 'I will make you lean' e-book, sign up for her free e-news containing tips, advice and information and receive details of new programmes as they launch, visit: http://www.alexandrawilson.com.
To read about Alexandra's Fitness Model Finishing School and to apply, visit: http://www.fitnessmodelfinishingschool.com.