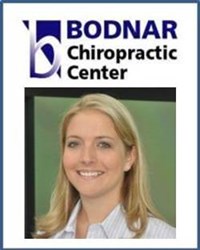 I know that she'll become a key player on our team and get the job done, so we're all excited to welcome her on board.
Alexandria, VA (PRWEB) July 22, 2013
Behind every great chiropractic clinic is a great Office Manager. Alexandria chiropractor Brian Bodnar is confident that Ms. Bristow will fill this challenging role effectively for Bodnar Chiropractic Center. "With her background in business administration, Candice will be able to streamline the organizational aspects of our practice. I know that she'll become a key player on our team and get the job done, so we're all excited to welcome her on board."
The healthcare landscape has become more complicated across the past decade, and there's little doubt that healthcare reform will only add to that complexity. And that's likely to be true for both patients and healthcare professionals alike. A very large part of any Office Manager's job is to take care of this administrative complexity behind the scenes so that day-to-day operations run smoothly and providers can focus on patients. Of course, this becomes more difficult as a healthcare practice expands. With both Alexandria City and Fairfax County growing substantially faster than the nation's overall population between the 2010 census and mid-year 2012 (5.3% and 2.8% versus 1.7%, respectively), Bodnar Chiropractic Center is preparing for the opportunities and challenges that come with growth.
Ms. Bristow brings broad experience in accounting, human resources, marketing and sales that she hopes to apply in her new role. "Since graduating from college, I've worked in a couple of very fast-paced offices in Georgia and Texas as a 'jack of all trades'. Every job and opportunity has added to my business knowledge and helped me learn how to be a good leader and get the job done. I'm really excited to take on this position and eager to learn more about chiropractic care and about the medical field in general. "
About Brian Bodnar, DC
Dr. Bodnar had been serving the Alexandria, VA community as a chiropractor since 1997. He holds a Doctorate of Chiropractic from Palmer College of Chiropractic and a B.S. in Biology and Chemistry from St. Vincent College.
About Bodnar Chiropractic Center
Dr. Brian Bodnar founded the Bodnar Chiropractic Center in 2002 to bring together top specialists from across different healthcare specialties with the idea that a holistic approach and coordinated care would lead to the best possible outcomes for patients. In addition to chiropractic care, the Center offers massage therapy, physical therapy, reflexology, acupuncture, herbal medicine and nutritional counseling as well as structured exercise and stretching programs.
Bodnar Chiropractic Center
6969 Richmond Highway
Alexandria, VA 22306
(703) 721-0500
http://chiropractor-alexandria.com
Follow Bodnar Chiropractic Center on Facebook