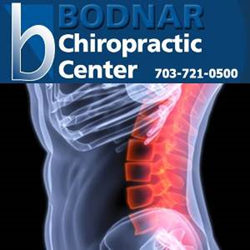 Alexandria, VA (PRWEB) July 18, 2014
Bodnar Chiropractic Center, the leading provider of expert chiropractic care, massage therapy and acupuncture treatment in the greater Washington, DC metro area, has marked a new clinical milestone in curve rehabilitation, treating 3,000 patients for a range of disorders involving abnormal curvature of the spine.
According to Alexandria chiropractor Dr. Brian Bodnar, "Losing the proper curvature in the spine--called lordosis--has a number of unhealthy consequences over time, including disc degeneration and possible disc herniations. When a spinal disc degenerates, there is less physical space between adjacent vertebrae. At the extreme, this can lead to bone-on-bone friction and osteoporosis. Herniated discs often cause neck pain, arm pain or numbness, lower back pain, or leg numbness. A spine that loses its normal curve can also develop bone spurs, which grow to compensate for the lack of support to the spinal structure."
For patients suffering from a loss of the normal curve, rehabilitation aims to re-establish this curve in order to improve posture, decompress the spine, and slow or stop the progress of disc degeneration. Dr. Bodnar describes his team's approach as collaborative and comprehensive. "At Bodnar Chiropractic Center, we incorporate various forms of traction and spinal molding blocks to re-establish the proper curve. But we also pay special attention to the patient's everyday lifestyle, including activities at home as well as workplace ergonomics. Long periods of time in front of the computer and poor posture are two of the biggest contributors to curvature problems, and we have to work hard to ensure that we're addressing root causes like these and not just the symptom. This means our approach to treatment has to be broader so that what's happening outside the office is congruent with what we're trying to achieve with the rehabilitation. Otherwise, we're actually working against ourselves."
The healthcare professionals at Bodnar Chiropractic Clinic design a treatment plan for each patient based on the degree of curve loss evident in X-rays. Depending on the severity of the problem and a patient's compliance with lifestyle changes and at-home corrective exercises, rehabilitation time can vary from three months to a year. Once the spine has been successfully remodeled, Dr. Bodnar typically recommends monthly or quarterly follow-up visits for up to a year to ensure stability.
While Dr. Bodnar and his team have been providing curve rehabilitation for over ten years, the protocol and technologies they use in the process have evolved over time. "In just the past year, we started implementing some new procedures, adding CBP (Chiropractic BioPhysics Technique) as well as Denneroll cervical and thoracic wedges to our approach. The changes are delivering even better results and have been received very well by our patients."
Dr. Bodnar had been serving the Alexandria, VA community as a chiropractor since 1997. He holds a Doctorate of Chiropractic from Palmer College of Chiropractic and a B.S. in Biology and Chemistry from St. Vincent College. Dr. Bodnar specializes in treating back pain, neck pain and joint pain from chronic conditions as well as sports injuries, auto injuries and work injuries. He and his team use a combination of techniques to bring relief to patients suffering from headaches and migraines, fibromyalgia, carpal tunnel syndrome, sciatica and whiplash.
About Bodnar Chiropractic Center
The Bodnar Chiropractic Center was founded in 2002 to bring together top specialists from across different healthcare specialties with the idea that a holistic approach and coordinated care lead to the best possible outcomes for patients. In addition to chiropractic care, the Center offers massage therapy, physical therapy, reflexology, acupuncture, herbal medicine and nutritional counseling as well as structured exercise and stretching programs.
Bodnar Chiropractic Center
6969 Richmond Highway
Alexandria, VA 22306
(703) 721-0500
http://chiropractor-alexandria.com
Follow Bodnar Chiropractic Center on Facebook.