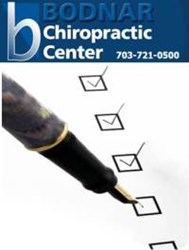 We are excited to be one of the first clinics to have this new system and to have the ability to provide our patients with additional medical services.
Alexandria, VA (PRWEB) October 16, 2013
Alexandria, VA chiropractor Dr. Brian Bodnar is proud to announce that Bodnar Chiropractic Center has implemented electronic records as of September 25, 2013. This implementation complies with the Affordable Care Act (ACA) requirement that all medical records be available electronically. "We are excited to be one of the first clinics to have this new system and to have the ability to provide our patients with additional medical services."
Dr. Brian Bodnar has been working with patients throughout the greater Washington, DC metro area since 1997, and converting years of paper records to electronic media certainly presented challenges. However, now that the system has been set up properly, the practice's approach to managing electronic records is in compliance with both the Health Insurance Portability and Accountability Act (HIPAA) and Medicare.
The electronic system improves patient care by allowing for better and more up-to-date tracking of patients' vital information such as weight, height and blood pressure. Each time a patient checks in for an appointment, these three items will be measured and entered into their electronic record.
All current patients have already been added to the system. Electronic records for both current and new patients will be updated during their next visit. The team at Bodnar Chiropractic Center will be asking each patient to bring in a current list of the medications they are using so that healthcare providers will be in a better position to monitor their effectiveness and to look for potential side effects and drug interactions. Each patient will also have his or her vitals taken and recorded. In addition to enhancing each patient's electronic record, this information will be used to evaluate and improve care plans.
At Bodnar Chiropractic Center, the full switch to electronic media is very nearly complete. Dr. Bodnar looks forward to leaving the era of paper-based record keeping behind. "We expect to be a paperless clinic within 6 to 8 weeks." Soon, all administrative processes will be managed electronically. Patients will be able to check in at the Center using a thumbprint or by logging in to an iPad, both of which are HIPAA compliant. New patients are now able to fill out electronic forms on line and these forms will automatically be added to their newly created electronic record.
Working electronically gives interactions with patients a boost, too. According to Dr. Bodnar, "Our new system will allow better use of automated email in our interactions with both current and new patients."
There are other, less obvious advantages to having patient records stored electronically, too. For instance, they can be password protected and stored offsite. Bodnar Chiropractic Center's electronic records will reside in the cloud, which is made up of large groups of professionally-managed, secure data servers. This means that staff members at Bodnar Chiropractic Center don't need to worry about IT issues and can concentrate on what they do best: attending to the health of their patients.
About Brian Bodnar, DC
Dr. Bodnar had been serving patients from Alexandria, VA and other communities throughout the greater Washington DC area as a chiropractor since 1997. He holds a Doctorate of Chiropractic from Palmer College of Chiropractic and a B.S. in Biology and Chemistry from St. Vincent College. Dr. Bodnar specializes in treating back pain, neck pain and joint pain from chronic conditions as well as sports injuries, auto injuries and work injuries. He and his team use a combination of techniques to bring relief to patients suffering from headaches and migraines, fibromyalgia, carpal tunnel syndrome, sciatica and whiplash.
About Bodnar Chiropractic Center
The Bodnar Chiropractic Center was founded in 2002 to bring together top specialists from across different healthcare specialties with the idea that a holistic approach and coordinated care lead to the best possible outcomes for patients. In addition to chiropractic care, the Center offers massage therapy, physical therapy, reflexology, acupuncture, herbal medicine and nutritional counseling as well as structured exercise and stretching programs.
Bodnar Chiropractic Center
6969 Richmond Highway
Alexandria, VA 22306
(703) 721-0500
http://chiropractor-alexandria.com
Follow Bodnar Chiropractic Center on Facebook.