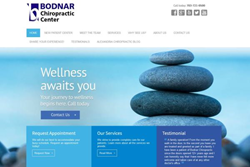 We feel that patients are more engaged, and the site gives us the opportunity to establish an even stronger identity for the practice...
Alexandria, VA (PRWEB) October 17, 2014
The world of healthcare has changed a great deal since Dr. Brian Bodnar and his team at Bodnar Chiropractic Center in Alexandria, VA first launching the Center's website in 2006. And the Affordable Care Act isn't the only driver. During the past 8 years, there's been a huge shift in patients' expectations when it comes to the way they interact online with their doctors. With this shift in mind, Bodnar Chiropractic Center's office manager, Candice Bristow explains, "This is actually our second major redesign and face-lift. Our motivation was pretty simple--we wanted to be more user-friendly, offer better mobile access and have a toe in social media."
Dr. Bodnar believes that these sorts of requirements reflect a fundamental evolution in how patients and prospective build and manage relationships with their healthcare providers. The website is now much more central to that process. "We feel that patients are more engaged, and the site gives us the opportunity to establish an even stronger identity for the practice, who we are, and what we offer. Patients expect to be able to find everything they need to know about the practice online. They also expect worthwhile health and wellness resources at their fingertips. That's why we decided to rethink our homepage, expand our social media links and add new exercise content. Overall, we think we've created a cleaner look while introducing more relevant information for our patients."
While the early response to the Center's website makeover has been very positive, Dr. Bodnar and the team understand that expectations will continue to evolve and that the Internet will continue to offer new opportunities to increase patient engagement and improve service. In the near term, Dr. Bodnar sees two ways to make the website even more valuable for visitors. "The Active Family Chiropractic Health Blog is a really great reference for patients. It covers a broad range of topics and we'll continue to build on that. We also think there are opportunities to make things more efficient and easier for patients on the administrative side of things, such as adding online patient forms that pass information directly into our office software."
About Brian Bodnar, DC
Dr. Bodnar had been serving the Alexandria, VA community as a chiropractor since 1997. He holds a Doctorate of Chiropractic from Palmer College of Chiropractic and a B.S. in Biology and Chemistry from St. Vincent College. Dr. Bodnar specializes in treating back pain, neck pain and joint pain from chronic conditions as well as sports injuries, auto injuries and work injuries. He and his team use a combination of techniques to bring relief to patients suffering from headaches and migraines, fibromyalgia, carpal tunnel syndrome, sciatica and whiplash.
About Bodnar Chiropractic Center
The Bodnar Chiropractic Center was founded in 2002 to bring together top specialists from across different healthcare specialties with the idea that a holistic approach and coordinated care lead to the best possible outcomes for patients. In addition to chiropractic care, the Center offers massage therapy, physical therapy, reflexology, acupuncture, herbal medicine and nutritional counseling as well as structured exercise and stretching programs.
Bodnar Chiropractic Center
6969 Richmond Highway
Alexandria, VA 22306
(703) 721-0500
http://chiropractor-alexandria.com
Follow Bodnar Chiropractic Center on Facebook.