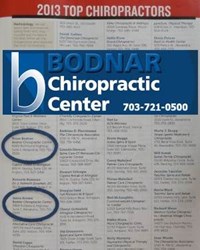 ...The key to having a successful practice today is adapting to our ever-changing environment without ever forgetting that we are here to serve.
Alexandria, VA (PRWEB) September 06, 2013
According to Northern Virginia Magazine, Alexandria Chiropractor Dr. Brian Bodnar and his colleague Dr. Jason Brown are two of the top chiropractors in the region. What does it mean for two doctors from the same practice to make this year's list? Dr. Bodnar offers a broad perspective: "It's clearly an honor for us, and we're grateful to be nominated by our peers. When other chiropractors in the northern Virginia area appreciate the quality of care your team provides and your overall approach to service, you know you're doing something right." He also points out that recognition like this doesn't come from doing only one or two things well. "This award means our team is being recognized for going the extra mile in every aspect of care. Of course this includes the treatments we provide our patients—chiropractic care, massage, physical therapy and acupuncture, for example. But it also includes the way we approach aspects like scheduling and insurance. The Washington, DC area is a very busy, fast-paced professional environment. We respect our patients' time and work to minimize wait times and red tape compared with what they'd find at other doctors' offices."
Asked about what sets Bodnar Chiropractic Center apart, Dr. Bodnar describes a patient-centered approach and a unique combination of high-touch and high-tech. "Our goal is to put the health back in 'healthcare'. What sets our practice apart is putting each patient first and tailoring a specific care plan based upon each individual's goals and needs. We also are on the cutting edge of technology in the field, incorporating computerized outcome-based adjusting and implementing new software that utilizes electronic health records to comply with Medicare's future needs and help our patients get reimbursed in a timely manner."
While Dr. Bodnar and his team stress the importance of change and improvement, their motivation and focus remains consistent. "I believe that the key to having a successful practice today is adapting to our ever-changing environment without ever forgetting that we are here to serve. First and foremost, Bodnar Chiropractic is truly a family practice, and I know you can feel you are part of the family when you walk in the door."
About Brian Bodnar, DC
Dr. Brian Bodnar had been serving the Alexandria, VA community as a chiropractor since 1997. He holds a Doctorate of Chiropractic from Palmer College of Chiropractic and a B.S. in Biology and Chemistry from St. Vincent College. Dr. Bodnar specializes in treating back pain, neck pain and joint pain from chronic conditions as well as sports injuries, auto injuries and work injuries. He and his team use a combination of techniques to bring relief to patients suffering from headaches and migraines, fibromyalgia, carpal tunnel syndrome, sciatica and whiplash.
About Bodnar Chiropractic Center
The Bodnar Chiropractic Center was founded in 2002 to bring together top specialists from across different healthcare specialties with the idea that a holistic approach and coordinated care lead to the best possible outcomes for patients. In addition to chiropractic care, the Center offers massage therapy, physical therapy, reflexology, acupuncture, herbal medicine and nutritional counseling as well as structured exercise and stretching programs.
Bodnar Chiropractic Center
6969 Richmond Highway
Alexandria, VA 22306
(703) 721-0500
http://chiropractor-alexandria.com
Follow Bodnar Chiropractic Center on Facebook.
About Northern Virginia Magazine
Northern Virginia Magazine serves the Virginia communities surrounding Washington, DC, including Alexandria, Annandale, Arlington, Fairfax, Falls Church and McLean. It is the winner of 14 Virginia Press Association awards. In addition to its other features, Northern Virginia Magazine publishes annual "Top & Best Lists" that showcase outstanding local businesses. Its 2013 Top Chiropractors List (http://www.northernvirginiamag.com/top-chiropractors-2013/) was released in August.