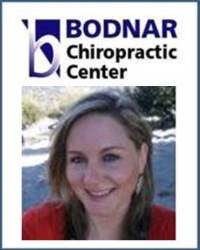 It's a wonderful atmosphere to help people and make a difference. The energy is different and exciting. I'm very glad to be part of this family.
Alexandria, VA (PRWEB) December 10, 2013
Alexandria, VA chiropractor Dr. Brian Bodnar and the team at Bodnar Chiropractic Center have offered a range of complementary and alternative medical services—including acupuncture—for the past 11 years as part of an integrated, holistic healthcare model. "Bringing Casey into the practice is really a continuation of that same commitment. She's one of the most talented acupuncturists I've worked with, and her own holistic approach to wellness is helping to expand treatment options for our patients."
Prior to seeing her first patient at Bodnar Chiropractic Center in early November, Ms. Corridan led a successful private practice in New York City for over 5 years. She holds a MS degree in Traditional Oriental Medicine (MSTOM) from Pacific College of Oriental Medicine and a certificate from the Institute for Integrative Nutrition as well as a BA degree in Spanish and Psychology from Suffolk University in Boston, MA.
Asked about the role acupuncture plays in the integrated care model at Bodnar Chiropractic Center, Dr. Bodnar explains, "Acupuncture helps us address many different health concerns, including migraines and fibromyalgia as well as liver, spleen, and kidney problems. It's also a great fit for general wellness care. The potential health benefits of acupuncture and herbal medicines apply to a large population of patients, and more of these patients are showing an active interest in learning how traditional eastern therapies can help them."
Having access to a multidisciplinary healthcare team at Bodnar Chiropractic Center also has clear advantages for patients. "Having choices is important, and working with several specialists under one roof lets us use a team approach to designing better, more comprehensive treatment plans for patients. We're able to consult with each other about a wider range of options and decide together what makes the most sense in any particular situation. This results in more directed and effective care. I think Casey's obvious skills as an acupuncturist will make her a strong contributor to that process and her energetic personality will be a great overall addition to the practice."
Ms. Corridan welcomes the opportunities she's finding in her new multi-specialty work environment. "I really like the new perspective on treatment, working with new people, and getting patient referrals from the doctors and therapists. It's a wonderful atmosphere to help people and make a difference. After working for 5 years in New York City, I love the fact that the pace is a little bit slower here. I feel more relaxed and comfortable. Everyone here is great, and I love doing what I do. The energy is different and exciting. I'm very glad to be a part of this family."
About Brian Bodnar, DC
Dr. Bodnar had been serving the Alexandria, VA community as a chiropractor since 1997. He holds a Doctorate of Chiropractic from Palmer College of Chiropractic and a B.S. in Biology and Chemistry from St. Vincent College. Dr. Bodnar specializes in treating back pain, neck pain and joint pain from chronic conditions as well as sports injuries, auto injuries and work injuries. He and his team use a combination of techniques to bring relief to patients suffering from headaches and migraines, fibromyalgia, carpal tunnel syndrome, sciatica and whiplash.
About Bodnar Chiropractic Center
The Bodnar Chiropractic Center was founded in 2002 to bring together top specialists from across different healthcare specialties with the idea that a holistic approach and coordinated care lead to the best possible outcomes for patients. In addition to chiropractic care, the Center offers massage therapy, physical therapy, reflexology, acupuncture, herbal medicine and nutritional counseling as well as structured exercise and stretching programs.
Bodnar Chiropractic Center
6969 Richmond Highway
Alexandria, VA 22306
(703) 721-0500
http://chiropractor-alexandria.com
Follow Bodnar Chiropractic Center on Facebook.
About Alexandria Acupuncture Center
Alexandria Acupuncture Center
6969 Richmond Highway, Suite B
Alexandria, VA 22306
(703) 721-0572
http://acupuncture-alexandria.com