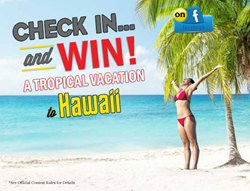 This one of a kind check-in and win contest gives gym members the chance to win a trip to the one and only Hawaii.
Alexandria, VA (PRWEB) April 30, 2014
Gold's Gym Alexandria is offering the trip of a lifetime to one lucky winner to one of the most sought after vacation destinations in the world. This one of a kind check-in and win contest gives gym members the chance to win a trip to the one and only Hawaii.
Gym members will have an opportunity to win the luxury vacation by checking in on Facebook each time they work out at Gold's Gym Alexandria, in conjunction with 54 other clubs. This check-in to win contest not only will encourage all gym members to continue on their fitness goals but will reward them when they do so. Members will need to check in on Facebook at Gold's Gym Alexandria at least 35 times in 90 days to qualify for the contest.
A Hawaiian vacation is a dream all in its own. The sandy beaches, clear blue water, unbeatable surf and astonishing sunshine are just some of the remarkable things when thinking of the paradise that is Hawaii. And now every gym goer has a chance to visit that bliss. Just hearing the words Hawaii is enough to make one see visions of Polynesian dancers with grass skirts and leis right in one's living room. In Honolulu, one will find some of the best art museums, surfing and some of the most majestic scenery in the world. While visiting Hawaii, do not miss the great surf and soft sands at Waikiki Beach. For those who are looking for adventure, make sure to visit the Diamond Head, a 350-acre volcanic crater where at the very top has the most awe inspiring views that one may ever see.
"We believe a prize of this magnitude and value makes this contest a first of its kind anywhere," say Bill Konstand, President of TAG Business Strategies, the company which is sponsoring the contest. TAG Plans to run similar contests for all of our participating Gold's Gym locations every year with new and unbelievable prizes that each gym member will have an opportunity to win.
To learn more about Gold's Gym Alexandria, please visit, http://goldsgymalexandria.com.
About TAG Business Strategies:
TAG Business Strategies has been a proven leader in online marketing and supplemental franchise marketing since 1999. TAG is a BBB rated A+ company and a certified partner of Google and major PPC engines. With innovative marketing techniques and a true sense of the evolution of marketing, TAG keeps clients a step ahead of the competition. In addition to hundreds of small/medium businesses and franchises across the USA, TAG Business Strategies also boasts fortune 500 clients like Pulte Homes USA.
To learn more about TAG Business Strategies and the solutions the company can offer, visit http://www.TAGBusinessStrategies.com.