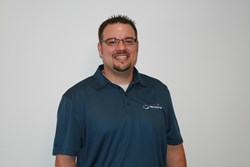 We are excited to have Ben on our team as we set new standards and turn possibility into product, faster and better than anyone.
Alexandria, MN (PRWEB) December 19, 2013
Alexandria Industries today named Ben Bomstad corporate trainer. Bomstad will plan and deliver manufacturing courses for aluminum extrusions, machining, injection and foam molding, along with other manufacturing services, such as Quick Response Manufacturing (QRM) and specialized training programs. In this newly created position, Bomstad will take ownership of helping all Alexandria Industries' employees learn new skills and innovative technologies.
"Bomstad's vast industry expertise, along with his vision to see others succeed, is the perfect fit to help grow our skills while we provide innovative manufacturing solutions for our customers," said Tom Schabel, CEO, Alexandria Industries. "We are excited to have him on our team as we set new standards and turn possibility into product, faster and better than anyone."
From his first job as a prototype machinist, fixture designer/builder and automotive technician, up to his most recent role as a manufacturing specialist for Alexandria Technical & Community College (ATCC), Bomstad brings an expansive knowledge base of manufacturing and corporate learning to his new role.
"Ben has the right skills to help us share best practices and educate our workforce to be innovative leaders in advanced manufacturing solutions and services for our customers," said Lynette Kluver, director of Organizational Development. "He will provide growth opportunities for all employees, whether they are located in Minnesota, Indiana or Texas, while also helping new employees acclimate themselves to our business, manufacturing processes and customers."
Bomstad has worked in manufacturing for more than 15 years. Prior to joining ATCC, he shared ownership of a precision CNC machining business with his father, Dale Bomstad, of Willmar, Minn.
About Alexandria Industries
Alexandria Industries, with ISO 9001:2008-certified facilities, is a privately held, high-quality, short lead-time producer of engineered products. From prototype development through final production, Alexandria Industries delivers customized aluminum extrusions, precision machining of ferrous and non-ferrous products, finishing, heatsinks, plastic injection and foam molding components, high-level assemblies and welding, that meet customers' exact specifications. A single call to any of the Alexandria Industries companies provides access to the collective scope of services and products, simplifying supply chain management. Alexandria Industries is headquartered in Alexandria, Minn., with manufacturing locations in Minnesota, Indiana and Texas.
For more information, please visit http://www.alexandriaindustries.com and Facebook.
# # #