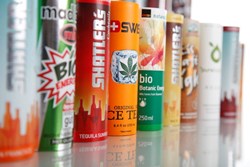 It's pioneering packaging in the drinks industry and we are delighted to be launching Cartocan® at the Packaging Innovations show in London.
(PRWEB UK) 25 September 2013
Leading carton board converters, the Alexir Partnership, will be attending Packaging Innovations London and will be launching the new Cartocan® to the UK market at the event. This exclusive event for branded and inspirational packaging will take place at the London Business Design Centre on October 1 and 2.
"This year we will be showcasing Cartocan®, the first and only cylindrical packaging format made from carton board to be filled aseptically with liquid and have a shelf life of up to 12 months unchilled," says Claire Summersby, Marketing Manager, Alexir Partnership. "This is an exciting new development in the drinks industry and provides a means for brands to be an environmentally-friendly alternative for premium products."
In addition to Cartocan®, the Alexir Partnership will be displaying other examples of their extensive manufacturing capabilities. The Alexir Partnership is the only company in the UK that can offer a complete 'design to delivery' service in the packaging industry. The four arms of the business encompass brand design, packaging production, out-sourcing and co-manufacturing, ensuring its unique position in the manufacturing industry in the UK.
Tom Sene, Sales Dirctor at the Alexir Partnership says, "We have been looking for a product that would complement our current portfolio and now we can offer our customers wet co-packing as well as dry. We are well-known in the industry for being first-to-market with carton board packaging in market sectors dominated by glass or plastic and now we have found the ideal solution for the drinks industry. It's pioneering packaging and we are delighted to partner Ennstal Milch and bring the Cartocan® to the UK market."
Packaging Innovations London is now in its fourth successful year. The event provides vital inspiration and ideas for packaging professionals, as well as information about the latest trends and advances in the market. The Alexir Partnership will be on stand B9 with samples of chilled Cartocan® products.
About the Alexir Partnership
With proven reliability, excellent quality and innovative packaging solutions, the Alexir Partnership is the only UK owned company that offers a complete design to delivery service.
For more information on The Alexir Partnership please visit http://www.alexir.co.uk , email sales(at)alexir(dot)co(dot)uk or call Claire Summersby on 01732 866681.