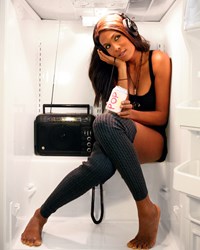 "Clear, free-wheeling vocals backed by energetic beats, grungy guitar riffs, and evidence of an array of influences..." - DeliMag NYC
New York City, NY (PRWEB) August 27, 2013
Pop rocker Alex Kelly releases her first full-length album "Orange Circle." After finding success as the lead singer and co-writer for Robby Takac's (of the Goo Goo Dolls) electro-pop side band Amungus, Alex moved back to her hometown of New York City where she produced and released her debut EP, Sticky Butterfly in the spring of 2010. Kelly's music has been featured on Channel 7 WKBW, Carma Dee TV, and Z100 New Radio. Amungus' song "Bad Kitty" appeared in the popular iTunes video game Tap Tap Revenge 3.
With influences such as Gwen Stefani, Michael Jackson, Mariah Carey, and Missy Elliott, Alex Kelly's "Orange Circle" is sure to appeal to a wide range of music lovers. Alex describes the sound of the album as "a true collaboration of rock, pop, and electronica...each song is its own entity." "Orange Circle" displays both versatility and excitement with songs such as the title track "Orange Circle," featuring a fun, melodic pop sound, while other tracks such as "Catalyst" and "Magnet" show off the album's electronic rock side.
"Orange Circle" was written and produced by Alex Kelly and Kelsey Warren, and was recorded at GCR Audio in Buffalo, NY with the help of audio engineer Justin Rose. The album is based on concepts from The Law Of One book series.
You can learn more about Alex Kelly at http://www.alexkellymusic.com/.
For more information, images, or to arrange for an interview with Alex Kelly, please contact Melissa Zeigler at Powderfinger Promotions: melissa(at)powderfingerpromo(dot)com.
Powderfinger Promotions–Independent Radio Promotion and Publicity. Since being founded in October 1994, Powderfinger has come to be regarded as a top indie radio promotion and publicity firm with ties across North America.