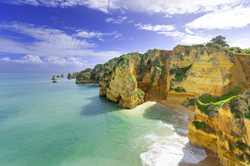 Figures released by the National Statistics Institute shows that the Algarve attracted 3.15 million visitors in 2013, an increase of 3.5% over the previous year.
(PRWEB UK) 15 May 2014
The Algarve, the coastal region at the foot of Portugal, is undeniably beautiful. Over 150 kilometres of pristine honey-coloured beaches, limestone cliffs and caves bask in year-round sunshine. Further inland the Algarve's terrain alternates between agricultural land where cork trees, carob, almonds and figs are grown; rolling green hills with wildflower meadows and even dramatic mountains.
Within these unspoilt landscapes the Algarve boasts countless wonderful places to stay, with destinations to suit every holidaymaker. Along the coast, traditional fishing ports such as Olhão, Alvor and Salema provide a tranquil setting for a beach holiday. By contrast, well-established resorts including Albufeira, Lagos and Praia da Rocha offer a wealth of shops, restaurants, activities and nightlife along with some of the Mediterranean's finest beaches. Historic towns such as Loule, Silves and the reputed 'end of the world' Sagres are fascinating in their own right whilst also providing an excellent base from which to explore the region, which is also renowned for the quality of its golf courses.
In the last fifty years the Algarve's unrivalled mix of natural beauty, hospitality, a sun-kissed climate and fabulous beaches has cemented the region's favour as one of the Mediterranean's foremost holiday destinations for visitors from Britain and across Europe. That popularity shows no sign of waning: the latest figures released by the Portugal National Statistics Institute (INE) shows that the Algarve attracted 3.15 million visitors in 2013, an increase of 3.5% over the previous year.
The Algarve's continuing allure – it is the most visited region in Portugal, accounting for 35.5% of all overnight stays to the country – and abundance of rental accommodation including superb beachfront villas, family apartments in popular resorts and romantic holiday cottages, clearly justifies its fifth-place ranking in Alpha Holiday Lettings' top 10 holiday destinations for 2014.
Examples of the many outstanding Algarve properties that leading rentals specialist Alpha Holiday Lettings offer include:
Vilamoura
One of the Algarve's most prestigious and popular resorts, Vilamoura is perfect for golfers, families and couples. Beyond its two excellent beaches and stunning marina, Vilamoura offers sufficient entertainment, activities, shops, bars and restaurants to provide the perfect holiday.
Property 15128: A fully-equipped private villa with pool (sleeps 8), just minutes away from the marina, beach and town, from £859 - £1612 per week.
Albufeira
A former fishing port turned lively and popular resort, picturesque Albufeira is a charming blend of historic cobbled streets and traditional architecture and all of the attractions and facilities expected of a thoroughly modern and enjoyable family holiday resort.
Property 12186: A family apartment (sleeps 6) on a popular resort complex with pools and entertainments a short distance from Albufeira's shopping centre, restaurants and beaches, £210 - £690 per week.
Lagos
Within its sixteenth-century town walls, this historic and beautiful town is renowned for its restaurants, modern marina, fabulous beaches and vibrant nightlife. Suitable for holidaymakers of all ages, Lagos offers relaxation and plentiful entertainment for everyone.
Property 127747: A luxury apartment (sleeps 4) with every modern amenity on a secure complex located minutes from the town centre, beaches, marina and one of the Algarve's finest golf courses.
About Alpha Holiday Lettings
Alpha Holiday Lettings has rapidly established itself as one of the top holiday rentals portal sites in Europe and offers self-catering apartments, cottages and holiday villas in Spain, England, France, Portugal, Italy, Cyprus, Turkey and other destinations around the world. The majority of the properties listed on Alpha Holiday Lettings are privately owned and are booked directly with holiday home owners. For more information, visit http://www.alphaholidaylettings.com.