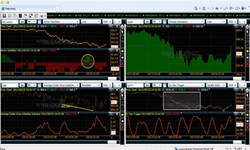 Pune, Maharashtra (PRWEB) July 31, 2013
Algorithmic trading also called automated trading, black-box trading, or algo trading, uses electronic platforms for technical analysis and placing orders with algorithmic power which executes pre-programmed trading instructions whose variables may include timing, price, or quantity of the order, in many cases initiating the order without human intervention. This solution is perfect for people who wish to be traders and have a best price match to maximize profit or cannot devote the amount of time required to analyse the market trends, or both
This type of trading is widely used by both investment banks, pension funds, mutual funds, and other institutional traders, to divide large trades into several smaller trades to manage market impact and risk, such as market makers and some hedge funds, provide liquidity to the market, generating and executing orders automatically.
CogFinServ is the first Algorithmic Trading Platform to be HP Convergence Infrastructure certified as well as the first Algorithmic Trading Platform to be Cloud Ready and Deployed on SaaS as well as SaS Model. It facilitates automated trading for 63 Exchanges of world.
Some of the features and advantages of CogFinServare:

Algorithmic Trading Business Rules which can be Chosen from around 300+ Technical Indicators and 50+ Built-in Trading System and/or Any Custom indicator coded by the Trader Built-in Technical Trading Language
Modular support in Algo trading Platform for Latest Versions of FIX engine and Fast Protocol which includes lot of optimizations and A Distributed Structure which has Gone beyond existing Recommendations of these protocol to optimize the process for a more higher throughput in both persistent and non-persistent modes.
Software Development Kit available for Brokers and Data vendors to be able to seamlessly integrate their legacy application.
Algo Trading Platform boasts best in class-An attractive and User friendly UI with 15+ Exotic Themes to choose from Data streams in real-time with the features which beat expensive Algorithmic trading platforms.
Symbol and interval linking and numerous Price styles available through a highly advanced Technical Analysis platform suite
Drag-and-drop indicator creation and Indicator Overlays
Industry fastest Algorithmic Trading Platform
Unlimited-symbol Algo Trading Platform
True Portfolio-Level Back Testing and Optimization, with Smart Evolutionary algorithms, Scalability tested
Market-neutral system support
Fundamental data Mining and Processing
Multiple Time-Frame support
3D optimization charts – Best Financial Stock Charting Library – These are not some borrowed charting library from third party. Graphics rendering has been specially made for Financial Charting and Low Latency High Volume Charting.
Object-oriented charting, drawing layers
Multiple Studies enough to meet your technical analysis requirements including Fibonacci lines, Gann Fans and advanced Line Studies
Flexible windows layout including Multi-window layouts, tabbing and docking
Formula-based alerts
Unique composite indicators for a Professional technical Analysis Experience
Built-in web research browser for Researching your stocks inside Algo Trading Platform
CogFinServ is accessible from PC to mobile phones, making it one of the most versatile and adaptable trading solution which enables the trader to manage his business on the move from anywhere, anytime.
About Cognosys Technologies:
Cognosys Technologies is a Red Herring Global 2012 Top 100 Winner, a Global ISV leading in Technical Consulting & Cloud Services leveraging cutting edge technologies to provide software solutions across domains with special emphasis on Storage Services, Media, Finance, HealthCare, ERP/ CRM, high performance cloud / cluster computing, complex event processing, enterprise mobile applications and creative embedded deployments. Combining extensive research with unparalleled experience, comprehensive capabilities across industries and business functions, Cognosys Technologies collaborates with clients to help them become high-performance businesses.