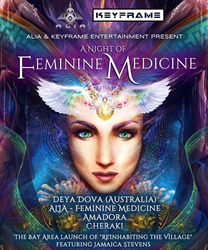 This is exactly the kind of expansion of community I am aiming to create through the Feminine Medicine™ platform and I am honored to be a contributor to the visionary "ReInhabiting the Village" project." - ALIA
San Francisco, CA (PRWEB) June 30, 2015
Created by ALIA, the "Feminine Medicine" July 10th themed show will feature music from the forthcoming album, including live vocal performances from Australian artist Deya Dova, Heather Christie aka Cheraki, Aleksandra Dubov, and Eden Amadora, along with dance performances from The Serpent Sanctum, Cyrena Giordano and members of the Quimera Tribe, aerialist Erina Love, and more. The "Feminine Medicine" album is currently under production at multiple venues throughout the summer, in collaboration with almost 30 female musicians, vocalists, and performers contributing to transformational festival and Burning Man culture. Each song on the album features a collaboration between ALIA and another artist and each stage show is unique presenting music from ALIA along with a different grouping of live vocalists and dance performers for each date.
Inspired by the idea of co-creating music with other women that brings a distinctively "feminine" sound to an otherwise male-driven industry, this project aims to create a beautiful and danceable album of music that features a stage show that creates a journey through the talents of several female choreographers and dancers.
"It is my vision that the Feminine Medicine™ platform showcase other female talent so each Feminine Medicine™ themed event presents a different constellation of women who are involved with the project as contributors, as well as allies of the project. On July 10th, I am delighted to present a line-up of extraordinary talent: Deya Dova coming to us from Byron Bay, Australia, Amadora, and Cheraki, as well as a set from myself featuring music from the Feminine Medicine™ project," says ALIA.
Sponsored by Keyframe, the "Feminine Medicine" project was made possible through a successful Kickstarter campaign that raised $20,305 and surpassed its goal by $5355 in March 2015.
"A Night of Feminine Medicine" is also the Bay Area launch event of the book project "ReInhabiting the Village," featuring an opening talk from the Creator and Community Visionary Jamaica Stevens. "Re-Inhabiting the Village: CoCreating our Future" is a multi-media book and online community hub project co-created by an alliance of visionary partners contributing knowledge to foster thriving projects, organizations, and communities. The book features over 40 grassroots leaders, artists, educators, visionaries, facilitators, event producers, permaculture experts, economic advisors, technology developers, indigenous elders, project managers, ecologists, media specialists, and social movement organizers sharing their voices. Chapter topics include Heart of Community, Health and Healing, Art and Culture, Learning and Education, Regional Resilience, Inhabiting the Urban Village, Community Land Projects, Holistic Event Production, Living Economy, Media & Storytelling, Appropriate Technology, and Whole Systems Design.
As Jamaica Stevens states, "The Village is about being personally empowered, knowing our purpose, and sharing our resources and skills in service to our community. It's about realizing that we are all interconnected to each other, that we all matter, and that we are deeply woven to the places we are in stewardship of. It is vital that we become engaged in the every day things we can all do to create vibrant cities and neighborhoods, to work for resilience in our bio regions, for justice in our social structures, and to do our part for a healthy planet."
In addition to the printed book, the multi-phased project with also include a companion workbook, eBook, and an interactive website with a holistically integrated resource directory and a suite of collaborative tools.
Executive Produced by Keyframe, "ReInhabiting the Village" was made possible through a successful Kickstarter campaign that surpassed its $30,000 goal in December 2014.
ALIA states, "We are delighted to host our sponsor Keyframe-Entertainment and the Bay Area launch of the project "ReInhabiting the Village," an anthology book that explores how we can co-create a new future together. This is exactly the kind of expansion of community I am aiming to create through the Feminine Medicine™ platform and I am honored to be a contributor to this visionary project."
As the success of "Feminine Medicine" and "ReInhabiting the Village" show, community serves as a conduit to making such projects happen by bringing supporters together through the shared beliefs in co-creating a better world.
"A Night of Feminine Medicine" event will be held at Guava in Emeryville on July 10th from 8pm-2am. For further details go to the Facebook event page at
https://www.facebook.com/events/100157846994645/ and get tickets at: https://www.eventbrite.com/e/a-night-of-feminine-medicine-tickets-17330976417.
About ALIA:
ALIA is a San Francisco-based Producer, DJ, and Vocalist. ALIA has crossed international borders and traversed coasts to play transformational festivals including Envision Festival, Lucidity Festival, Enchanted Forest Festival, Beloved Gathering, Wanderlust Festival and Burning Man. She is also a regular fixture at the conscious events in the San Francisco Bay Area and is a resident of the worldwide phenomenon Ecstatic Dance. Her music is featured in the acclaimed video series showcasing the transformational festival movement, "The Bloom Series", and she was a musical contributor for TedX. A long-time champion for women's liberation and a former marketing executive that followed her passion into music, ALIA created her movement Femvolution to support other women to liberate their voice and passions providing private coaching and mentoring support, and she was named a "Woman Changing the Planet" by ORIGIN magazine.
About Jamaica Stevens:
Jamaica "Jai Ma" Stevens is the Creator of Tribal Convergence Gatherings, Executive Producer of Awaken Visionary Leadership Summit, Co-Founder of Tribal Convergence Network, and Organizational Consultant and Producer with Lucidity, Envision and other festivals. She is an experienced event producer, workshop leader, group facilitator, community organizer, organizational systems consultant, project manager, and life coach. The Vision for the "ReInhabiting the Village" Project comes from being inspired to curate the wisdom, reflections, and practices of her community of activists, educators, producers, artists, and visionaries who each reflect the Voice and Heart of a greater movement.
About Keyframe-Entertainment:
Keyframe-Entertainment is a media network that creates global positive change by inspiring, informing, and entertaining through Transformational films, Visionary Art, and Electronic Music. Keyframe produces, finances, and distributes cutting edge projects in order to generate growth for its partners and strengthen community-building worldwide. Keyframe was launched in 2004 as a music label and artist management company and has since expanded its scope to offer Marketing, Social Media strategy, and PR services to DJs, festivals, and EDM companies. Keyframe-Entertainment is the Executive Producer of "Electronic Awakening," "The Bloom Series" Episode 3, and "ReInhabiting the Village."