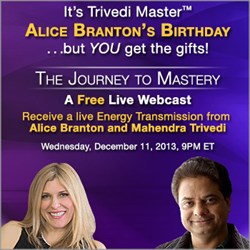 (PRWEB) December 11, 2013
To celebrate the birthday of the Trivedi Master™, Alice Branton and also to honour her recent designation as a Trivedi Master™, a free live webcast "The Journey to Mastery" is going to be held on December 11, 2013 at 9pm ET under the aegis of Mr Mahendra Trivedi and Alice Branton. On this occasion a powerful Energy Transmission from both of them will also be provided free of cost.
People from all over the world and from all walks of life are invited to join this celebration where they will get a glimpse of Alice Branton's journey to mastery and would also receive a free of cost Energy Transmission that has been proven by the empirical and irrefutable evidence of over 4000 scientific studies.
Recently, on 9th November, 2013 Alice Branton was announced to the world as the Trivedi Master™ by Mahendra Trivedi. Mr Trivedi had stated, "Alice has embodied this Divine Energy and already has the ability to transform people and to thrill science with her Energy Transmissions." During this webcast you will learn how Alice became a Trivedi Master™ due to the profound impact of The Trivedi Effect® in just three years and how others can also gain mastery over their own life by connecting to the divine energy through The Trivedi Effect®.
At this event, you can also invite the people like your family, friends or those you care about. They will be able to receive an intellectual understanding of the possibilities this energy offers and will also begin to directly experience the transformational power of The Trivedi Effect® in their lives.
Get ready to join the celebration and receive Energy Transmission from Mahendra Trivedi and Alice Branton at the same time. Invite your friends and family members to join this celebration and start their journey towards transformation.
To confirm your presence at the celebration, and to know more about the event please visit http://www.trivedieffect.com/alice-birthday/.
Your gracious presence is solicited.