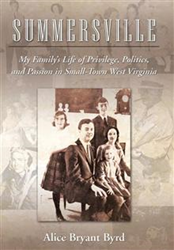 CONCORD, N.C. (PRWEB) February 05, 2015
In the heart of West Virginia is Summersville, the home of the Bryant family and author Alice Bryant Byrd. In her new non-fiction, "Summersville: My Family's Life of Privilege, Politics, and Passion in Small-Town West Virginia" (published by LifeRich Publishing), Byrd describes the history of her family within the West Virginia town from the 1940s to the 1970s.
"It is a memoir about a family from the heart of Appalachia," Byrd says, "including how they soared financially and politically, but also how that privileged life took a toll on them."
Byrd's book describes the highs and lows of the Bryant family including her father's time in the Navy during World War II, his success in getting President Lyndon Johnson to town for a visit, political shenanigans, alcoholism and adoption all seen through the lens of Appalachian culture. Byrd describes her book as a "true family saga."
An excerpt from "Summersville":
"I don't mean to imply that my early life had been boring. In fact, it was anything but. During most of my sixteen years in Summersville, West Virginia, my parents were deeply involved in the local government of that small town. Dad returned a hero from his World War II service as a navy pilot and then became a brash, young businessman who catapulted to local and regional political fame."
"Summersville"
By Alice Bryant Byrd
Hardcover | 6 x 9 in | 244 pages | ISBN 9781489703842
Softcover | 6 x 9 in | 244 pages | ISBN 9781489703866
E-Book | 244 pages | ISBN 9781489703859
Available at Amazon and Barnes & Noble
About the Author
Alice Bryant Byrd lives with her husband, three dogs and a cat in Concord, North Carolina. Her father, William S. Bryant, lives nearby and will turn 94 in February 2015.
LifeRich Publishing, the strategic publishing partnership of Reader's Digest and Author Solutions, LLC, was created to provide all writers a platform for sharing their stories, recipes, advice and more. LifeRich authors will benefit from a wealth of editorial design, marketing and education resources, specially created by Reader's Digest editors for the enrichment of these LifeSmart individuals. Books can be published in print, ebook or audio formats, with additional distribution to up to 25 million Reader's Digest customers through its online properties. Follow @LifeRichPub on Twitter or "Like" us at facebook.com/LifeRichPublishing for the latest updates.