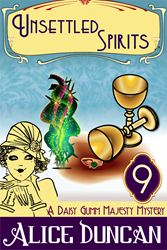 People are dropping dead at Daisy's church
Shrewsbury, Pennsylvania (PRWEB) December 01, 2015
ePublishing Works! announces UNSETTLED SPIRITS by Alice Duncan, available in paperback (978-1-61417-991-7, 280 pages, $15.99 USD) and eBook format (978-1-61417-990-0, $3.99 USD).
GENRE:
Fiction, Mystery, Cozy, Women Sleuths
THE STORY:
People are dropping dead after communion services at Daisy's church, Detective Sam Rotondo has finally professed his love for Daisy, and Daisy sees swaying trees in her crystal ball--a prop in which she doesn't place any faith.
But when the crystal ball's image leads Daisy to her client's missing butler, and then a bunch of bootleggers, Daisy unknowingly bumps into the man responsible for the parishioners' deaths. She doesn't recognize him, but he recognizes her and that lands Daisy at the top of his to-be-murdered list.
Read an excerpt from the book by clicking here.
PRAISE for THE DAISY GUMM MAJESTY MYSTERIES:
"Well plotted with a band of whimsical characters and genuine humor... as comforting as a warm mug of cocoa on a blustery day." ~Diane Morasco, RT Book Reviews
"Cozy fans will find [Daisy's] simple, sweet, budding relationship with Sam refreshingly free of artifice." ~Publishers Weekly
Discover the entire series by clicking here.
FROM ALICE DUNCAN:
"The idea for this story came to me in church on a Communion Sunday, when I thought it might be fun to have folks drop dead during the communion service. I probably missed the point of the sermon that Sunday but sometimes church can be inspirational in surprising ways.
In this story, Daisy manages to inadvertently break up a bootlegging operation, find a missing butler, and uncover a murderer. There are lots of surprises and twists that I hope readers enjoy."
MEET ALICE DUNCAN:
In an effort to avoid what she knew she should be doing, Alice folk-danced professionally until her writing muse finally had its way. Now a resident of Roswell, New Mexico, Alice enjoys saying "no" to smog, "no" to crowds, and "yes" to loving her herd of wild dachshunds. Visit Alice at http://www.aliceduncan.net.
Discover and Purchase this and other titles from ALICE DUNCAN by clicking here.
UNSETTLED SPIRITS is available through online retailers, booksellers, subscription services and public libraries everywhere.
Wholesale buyers may order through Ingram or Baker & Taylor with return privileges.
ABOUT EPUBLISHING WORKS:
ePublishing Works! is a next generation digital print, audio and ebook publisher for career-minded authors who want to focus on their passion: writing great stories. From digital file preparation, cover design, sales copy, promotion and distribution, to royalty payment, ePublishing Works takes care of business while authors enjoy the freedom to write. For more information and submission guidelines visit us at http://www.epublishingworks.com or click here to request information.