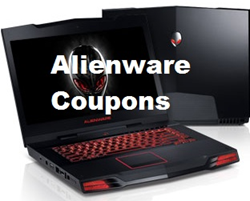 By simply using the overstock clearance coupon, alert gamers can save $431 on this Alienware 17 gaming laptop.
(PRWEB) May 28, 2014
New Alienware 17 overstock clearance sale has just been listed on the Bizwaremagic.com site which regularly posts the latest laptop deals to its online Laptop Guide's patrons and subscribers. This latest coupon offer features the popular and highly rated (4.5 out of 5 stars) Alienware 17 gaming laptop for only $1449. Potential buyers save $431 and this current offer comes with free shipping.
The discounted Alienware 17 model comes with 4th Generation Intel Core i7-4700MQ (6MB Cache, up to 3.4GHz) processor, 16GB of DDR3L at 1600MHz (2 x 8G) RAM and the Nvidia GeForce GTX 770 graphics card with 3GB of memory. It also sports a 17.3" WLED FHD (1920 x 1080) anti-glare display and 750GB SATA 3Gb/s (7,200 RPM) hard drive with 64GB mSATA SSD Caching. The operating system is Windows 8 (64-bit) and the laptop weighs around 9 pounds.
This is an attractive offer mainly because of the 16 Gigs of Ram, high resolution (1920 x 1080) display and a faster 7,200 RPM hard drive with 64GB mSATA SSD Caching. Buyers should be aware a new Alienware 17 starts at $1499, but before upgrades this model will only come with 8GB of RAM, lower (1600 x 900) display and smaller/slower 5400 RPM 500GB hard drive. Depending on one's view, the only other issue/problem is Windows. The new model has Windows 8.1, but the discounted Alienware 17 has Windows 8. However, this discounted notebook can be easily upgraded to the newer operating system.
The clearance sale runs from 5/27/2014 to 6/02/2014 and quantities may be limited so potential buyers will have to act quickly to receive the savings. Other restrictions may apply so see the official Alienware site for all terms and conditions.
The special Alienware clearance sale can be found here: http://www.bizwaremagic.com/alienware_coupons_discounts.htm or check out these top rated gaming laptops: http://www.bizwaremagic.com/best_gaming_notebooks.htm All products/companies mentioned above are registered trademarks of their respective owners and companies.