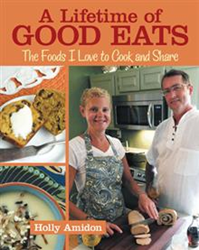 ROME, N.Y. (PRWEB) December 14, 2016
Holly Amidon learned how to cook at a very young age. Throughout the years, Amidon has built up a repertoire of recipes - from her early cooking days to regionally inspired dishes and more complicated culinary offerings. In her first published cookbook "A Lifetime of Good Eats" (published by LifeRich Publishing), the author presents a compilation of the comfort foods that she has prepared for others numerous times over the past 30 years.
Amidon weaves together the story of her life and her relationship with food in this cookbook. Describing that the world has become a foodie nation, Amidon thinks that cookbooks will continue to be a terrific resource for people who enjoy honing their kitchen abilities and sharing their food with others.
What makes Amidon's cookbook a unique book is that it relates the recipes to some special person or time in the author's life and weaves those stories together with the food. Readers will get caught up in the exuberance of the author's story as well as the ease of food preparation.
"I believe that my caring, easy going personality resonates in the recipe vignettes. My approach to life and loved ones is joyous and open. Cooking and entertaining is one of the ways that I can share that happiness," Amidon says.
"A Lifetime of Good Eats"
By Holly Amidon
Hardcover | 8 x 10in | 138 pages | ISBN 9781489709332
Softcover | 8 x 10in | 138 pages | ISBN 9781489709325
E-Book | 138 pages | ISBN 9781489709318
Available at Amazon and Barnes & Noble
About the Author
Holly Amidon plans to write two more books. "A Lifetime of Good Eats" is her first published cookbook.
LifeRich Publishing, the strategic publishing partnership of Reader's Digest and Author Solutions, LLC, was created to provide all writers a platform for sharing their stories, recipes, advice and more. LifeRich authors will benefit from a wealth of editorial design, marketing and education resources, specially created by Reader's Digest editors for the enrichment of these LifeSmart individuals. Books can be published in print, ebook or audio formats, with additional distribution to up to 25 million Reader's Digest customers through its online properties. Follow @LifeRichPub on Twitter or "Like" us at facebook.com/LifeRichPublishing for the latest updates.