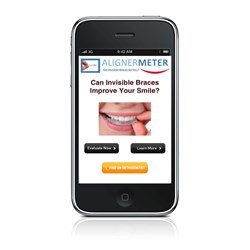 Are Invisible Braces for You?
Baltimore, MD (PRWEB) November 22, 2013
The AlignerMeter App provides iPhone and Android smartphone users with a fun and simple way for people considering invisible braces to get a free consultation and be on their way to achieving the smile they have always wanted without all the hassle.
Consumers love the application because they get a consultation without having to go to an Orthodontist. And it's free. Furthermore, they can be confident that they have found a board certified orthodontist who they can trust.
This pioneering app is rapidly growing in popularity. Since the AlignerMeter App release in January 2013, it has seen an incredible response. This app has generated the largest fan base of its kind; individuals who would like to determine if they're a good candidate for invisible braces and users who are seeking an orthodontist who specializes in invisible braces.
The mobile application consulting process has been made as simple as two steps, downloading the free app and taking three pictures of user's teeth. The App automatically submits the user's pictures to a board-certified orthodontist, who then evaluates the images. The board certified reviewing orthodontist evaluates whether the user is a good candidate for invisible braces. Once a positive determination is made, the app informs the user and provides the user with referrals to orthodontists in their area.
Find more information on our website: http://www.greatsmileforyou.com.
Download the iPhone App from: https://itunes.apple.com/us/app/invisalign-meter/id477432939?mt=8.
Download the Android App from: https://play.google.com/store/apps/details?id=com.vmo.Alignermeter&hl=en.
Invisible braces can be used to correct a vast array of different dental problems, including crooked and misaligned teeth, uneven spacing, crowding and overlapping, and even under-bites and over-bites. Invisible braces are typically most suitable for individuals who require a mild to moderate degree of correction; those who have severe dental problems may not be eligible for this form of correction.
Once invisible braces treatment begins, the patient will be provided with custom-designed invisible aligner. A new aligner is provided every couple weeks. Each aligner is slightly different from the prior one; the aligners progressively move the subject's teeth into the proper alignment.
Many individuals who lack confidence in their teeth and smile tend to avoid smiling or worse, they adopt a close-lipped smile that can come across as tense and even inauthentic. So smile correction doesn't just result in straighter teeth; they will feel comfortable to really, truly smile. And that leads to true happiness, more positive perceptions and more opportunities.
When people correct their teeth and feel comfortable smiling, others will view them as more content, more confident and more in control – all traits that can make them more approachable and even more desirable as a prospective employee.
So from acing that interview to actually feeling happier, smiling can literally improve a person's life! Now that's something to smile about.
AlignerMeter is the key to a beautiful smile that will open doors and leave the right first impression.