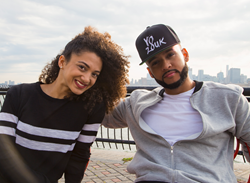 "Sabrina Hale came across a video of Aline and Charles over a year ago and reached out to help them with marketing and branding. I can tell you that Aline and Charles have the 'it' factor. " - Jonathan Hay (Publicist and Producer)
(PRWEB) August 01, 2016
Visual artist Sabrina Hale, co-owner of high-profile entertainment firm Jonathan Hay Celebrity, recently traveled to New York City to film a sit down interview with Aline and Charles, the Brazilian dance duo who received a co-sign by Justin Bieber through the superstar's personal Instagram recently. The video captures the dancers opening up about their Justin Bieber experience, as well as performing a freestyle dance in the park at Pier A in Hoboken, NJ, showcasing their Zouk style while overlooking the Manhattan skyline. The song featured in the video is "So Long", produced by Jonathan Hay and Vigilani Entertainment out of Cincinnati, Ohio with a scheduled release date of August 16th as a Spotify exclusive.
Aline Cleto and Charles Espinoza, known as Aline and Charles have crafted a niche by brilliantly fusing together several dance styles, including hip-hop, street jazz and a Brazilian dance called Zouk, which has earned them a massive amount of views online. When a video of Aline and Charles surfaced on a German Facebook page early last year, it unexpectedly went viral overnight, garnering over 61 million views to date. The Brazilian duo's extraordinary choreography to Chris Brown's "It Won't Stop" was not lost in the amateur cell phone video footage. Dressed as if just waking up in the morning -- him shirtless in pajama bottoms, her wearing his pajama top -- they seemingly depict a couple making up after a heated argument from the night before, passionately and seductively.
Expressing raw emotions through sensual movements and tense rhythms, and sometimes provocative choreography, the ebb and flow of their "conversation" somehow feels very real and relatable, yet cutting-edge and new. Recently, a little more than a year later, Justin Bieber gave the ultimate recognition to Aline and Charles when he shared their dance video to his 75 million followers on his IG. Bieber captioned the video "Love this" with an additional title: "What is art? This is art." The video has gained over 5.6 million views and nearly 30,000 comments.
When they're not dancing on tour with Selena Gomez or visiting family in Brazil, the pair teaches dance classes and choreography at a studio in NYC and elsewhere around the world.
"Sabrina Hale came across a video of Aline and Charles over a year ago and reached out to help them with marketing and branding because she saw their amazing talent before it went viral. She offered to design their website and help guide them, and brought me in to help with publicity. She really believed in them, and now having met them in person, I see exactly what she was talking about. I've been around a lot of stars in my life, I've seen them at all stages -- before fame, during and after -- and I can tell you that Aline and Charles have the 'it' factor. Its so clear, it jumps out and grabs you." - Jonathan Hay, Celebrity Publicist