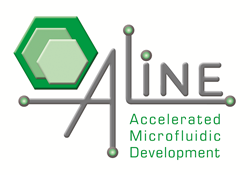 The HemoPalm will be the first handheld system for Point of Care testing that integrates analysis of the patient's blood gases and electrolytes with CO-oximetry.
Rancho Dominguez, CA (PRWEB) August 07, 2014
ALine Inc. of Rancho Dominguez, CA is pleased to announce that it has been selected as a primary contractor for the development of the ChroMedX, Ltd. HemoPalm cartridge and analyzer technology for Point of Care testing. The goal is to complete construction of the prototype cartridge and analyzer to demonstrate functionality of the system by the first quarter of 2015.
Wayne Maddever, Ph.D., P.Eng., President and CEO of ChroMedX Ltd. said, "The experience and expertise of Leanna and her ALine team make them the perfect partner for the development of the HemoPalm system."
Leanna Levine, Ph.D., President and CEO of ALine said, "We are excited about the potential for ChroMedX's technologies and are pleased to be a part of this development."
HemoPalm Technology
The HemoPalm system is comprised of a disposable cartridge and a handheld analyzer. The system measures co-oximetry, blood gases and electrolytes, in a patient's blood, and the resulting analysis can provide a complete assessment of a patient's acid-base and oxygenation status at the point of care (POC).
The leading competitors in POC testing require a second analyzer to provide CO-oximetry, which is the gold standard for measuring hemoglobin oxygen saturation and total hemoglobin. The ability to provide all the measurements described above in a single central laboratory analyzer has been available since the 1990s.
ChroMedX intends to be the first company to provide these measurements in a single handheld analyzer.
ALine is a microfluidic and Lab-on a Chip engineering and manufacturing company for the Life Science and Medical Diagnostics industries. We have developed modular design strategies that combine various microfabrication technologies to address the wide range of requirements needed for the realization of commercially viable Lab-on-a Chip cartridge and instrument systems.
We support clients from proof of concept to product launch, offering engineering expertise to incorporate reagents, fluid circuits, breadboard instruments, and instrument interfaces required for robust performance of the system. We troubleshoot design and integration performance and support production of the device.
ALine was founded in 2003, and is ISO9001:2008 certified.