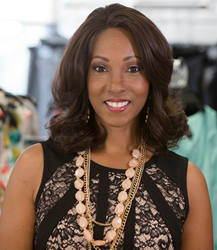 Looking back over my career, I realize that I didn't make it to this place in life alone. So many people shared their stories with me and invested in me, and I am beyond grateful to be able to pay it forward - Alison Vaughn, Founder, Jackets for Jobs
Detroit, MI (PRWEB) March 14, 2016
March is National Women's History month and women world-wide are being celebrated for their perseverance, hard work and commitment to excellence. On March 14, 2016, Detroit native and Jackets for Jobs CEO, Alison Vaughn will be recognized by Linwick and Associates (LWA) at the 2016 Career Mastered Women's History Month Awards Program Gala in Detroit. Vaughn and 24 other women will share their success stories and be recognized for becoming strong leaders, mastering their careers, and providing expansive vision about women's success.
Winners of this prestigious award are believed to be trailblazing their own lanes, creating their own futures and reshaping value systems in business. Vaughn established Jackets for Jobs Inc. – a non-profit organization that provides career skills training, employment etiquette and professional clothing to job seekers-- 16 years ago in a small church utility closet. She has since expanded the enterprise to include two locations in Detroit as well as a location in Botswana, Africa. Vaughn has also had the opportunity to speak on several international business panels, most recently in Dubai.
"Today's women leaders are Game Changers. They take charge of their careers and take charge of their futures. These women have made their mark in business and are exceptionally strong role models of what a woman can do. Giving recognition to these deserving women will also inspire future generations," said Dr. Lisa Lindsay Wicker, president & CEO, LWA and founder of the Career Mastered Women's History Month Recognition Program.
"I've always been a dreamer but never did I imagine that my passion for fashion and love for humanity would impact so many lives. I absolutely love the work that I do and I am truly humbled and grateful to be receiving such high honors with so many other amazing women," commented Vaughn.
On March 17, 2016, the Greater Detroit Chapter of the National Association of Women Business Owners (NAWBO) will present Vaughn with the Global Business Award during their ceremony honoring top 10 Business Women in Michigan. This illustrious event will honor the states most outstanding business owners, entrepreneurs, and community leaders for their contributions to excellence and innovation across a variety of industries.
"Reading through this year's list of honorees, it's undeniable that women continue to play an integral, vital role as leaders in our regional business landscape," said Tanya R. Allen, president of NAWBO Greater Detroit. "The quality and caliber of these women, including all those that were nominated, speaks to the strength of the entrepreneurial spirit that has not only provided stability in our region through the difficult times, but distinguished southeast Michigan as a driver of the state's economic revival and success."
On March 18, 2016, Vaughn will address more than 800 Model United Nations students at Michigan State University. Along with sharing her personal success story, Vaughn will provide guidance on overcoming obstacles and adversities, the road to entrepreneurship, taking advantage of opportunities and continuing to develop a global mindset.
"As a Michigan State Alumnus, it is such an honor for me to share my many learnings and experiences that helped me to build a successful organization. I am absolutely thrilled at the opportunity to encourage young people to go after their dreams. Looking back over my career, I realize that I didn't make it to this place in life alone. There were many people who shared their stories with me and invested in me and I am beyond grateful to be able to pay it forward for our future generation of leaders."
Alison Vaughn is founder of Detroit-based Jackets for Jobs, Inc., a 501c3 nonprofit that provides career skills training and clothing to job seekers. Jackets for Jobs has been recognized by ABC's The View, NBC's Today Show and NASDAQ as a worthy organization to support. Vaughn is a sought after public speaker and community advocate. She is a Goldman Sachs 10K Small Businesses Scholar. Visit AlisonVaughn.com for more information.