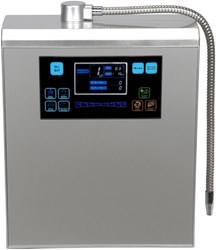 Since there are so many published medical studies on alkaline water benefits which point to their ability to improve your health, isn't it worth investigating?
(PRWEB) November 25, 2013
Bawell, one of the most reliable manufacturers of alkaline water ionizers, is offering its Platinum ionizer at a deep discount during its Black Friday sale. The Platinum ionizer is one of Bawell's top-quality products, featuring some of the fastest flow rates and widest diversity of settings of any of Bawell's products.
"The Platinum ionizer comes with numerous features," states one Bawell representative. "The machine, for instance, provides water in a pH range of 3.0 to 11, and includes 35 different alkaline and acidic preset water levels. In addition, this ionizing machine produces an entire gallon of purified and treated water every 30 to 35 seconds, and is easily controlled through touch screen LCD displays. Its automatic cleaning, easy installation, reliably strong titanium and platinum coated plates, along with its Forever Lifetime Warranty make this product one of our most popular models."
Bawell is offering the Platinum water ionizing machine on sale in an effort to spread awareness of the health benefits of alkaline ionized water. The company is dedicated to educating consumers about the incredible alkaline water benefits, and is committed to making its water ionizers as widely available as possible.
"Any one of our water ionizing machines allows consumers to reap the transformative health benefits of alkaline ionized water," says the Bawell representative. "We want to remove as many barriers as possible, including the barrier of cost, from our customers so they can embrace the benefits of the water that alkaline water ionizers provide."
Alkaline ionized water provides numerous health benefits, according to Bawell's representative. He cites the PubMed medical study that reveals alkaline ionized water's potential for fighting acid reflux. "According to this medical study," he quotes, "alkaline ionized water can actually neutralize one of the causes of acid reflux. Imagine reducing the amount of damage and the number of flare ups you have, just by drinking the right kind of water" (Pubmed #22844861).
Two other medical studies, he says, show that alkaline ionized water might be able to control diabetes. "The PubMed published medical study (PMID: 17268057) showed that this type of water helped to control glucose levels in genetically diabetic mice," he states. "This (PMID: 16945392) medical study showed similar results in Type 1 and Type 2 diabetic mice. Diabetes is an increasingly common dangerous disease. If drinking the right kind of water can help fight it, why not go ahead and drink alkaline ionized water?"
A fourth PubMed study (PMID: 15617863) cited by the water ionizer representative shows that alkaline ionized water can encourage a healthy balance of good and bad bacteria in the intestines. According to this Bawell representative, yet another PubMed medical study shows that ionized water can fight diseases such as cancer and aging, this one titled "Electrolyzed-reduced water protects against oxidative damage to DNA, RNA, and protein" (PMID: 17159237).
"Since there are so many published medical studies showing that alkaline ionized water may be able to transform your health, isn't it worth investigating?" the water ionizer representative says. "We hope that by having our products on sale, consumers will be convinced to give healthy water a try."
About Bawell
Bawell has spent the past 10 years manufacturing exceptional water ionizers. The company has a high rating from the Better Business Bureau, and possesses a passion for customer education and satisfaction. Bawell will only be satisfied when its water ionizers are available to everyone, because the company deeply believes in the transformative health benefits of alkaline ionized water. Every one of its products comes with a 60-day 100% money-back guarantee. Visit bawellwaterionizers.com to learn more about the many benefits of alkaline ionized drinking water.