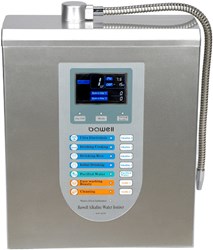 We want all those people who have been eyeing a water ionizer to now have a very special opportunity to obtain it during the most memorable season of the year.
(PRWEB) December 09, 2013
Bawell water ionizers starts 2013's Christmas Sales Season with a special holiday sale price on it's most popular Fountain 1775 model water ionizer. A Bawell representative stated "There is not better gift than the gift of health. Reading the medical study titled "Potential benefits of pH 8.8 alkaline drinking water as an adjunct in the treatment of reflux disease" (PubMed #22844861) shows how with the gift of an alkaline water ionizer you can help a friend or family member suffering from acid reflux. Imagine the memory they will have of receiving a gift which helps alleviate their daily pain and suffering which acid reflux disease can bring".
Bawell, a leading producer of high quality alkaline water ionizers, is making the most of this Christmas Holiday Sales to raise awareness of the many health benefits that alkaline water provides. "The diversity of settings the Fountain model features guarantee that anyone can choose the type of healthy, ionized water that works for them. During this time of year we provide a special rare opportunity to obtain one of these health improving devices at the very lowest of prices. We know that people are wishing to purchase a water ionizer for the many beneficial properties which exist in alkaline ionized water as discovered by medical researchers. Bawell wishes to make their top of the line water ionizers available at the most affordable of prices starting on Thanksgiving and continuing all the way until Christmas. We want all those people who have been eyeing a water ionizer to now have a very special opportunity to obtain it during the most memorable season of the year," the Bawell rep stated.
There are many more medical studies available on the US National Library of Medicine National Institutes of Health website, Pubmed for short, but below are some which specifically advocate the use of alkaline water for aiding in the treatment of certain diseases. The following medical study references alkaline ionized water explaining that it may also be able to help control diabetes. "The PubMed study #17268057 shows that alkaline ionized water improved the management of diabetes in genetically diabetic mice advocating it for a useful antidiabetic agent," the representative said. "Another scientific study had similar results in diabetic mice which had either Type 1 or Type 2 diabetes" (PMID:16945392). The representative concluded by citing a couple more studies, one of which showed that alkaline ionized water can improve overall health of every single person by benefiting the growth of "good" bacteria in the intestines (PMID: 15617863). Another PubMed study confirms alkaline waters ability to act as an antioxidant inside cells, neutralizing cancer and disease causing free radicals (PMID: 17159237).
"There is a lot of scientific evidence other than these above mentioned PubMed reports that support the health claims regarding the consumption alkaline ionized drinking water," states the Bawell representative. For a more detailed list of the benefits along with additional research visit bawellwaterionizers.com.
About Bawell:
Bawell has been manufacturing and selling water ionizers for over 10 years and is an A rated Better Business Bureau Accredited company. All the Bawell water ionizers come with a 60 Day 100% Money Back Return Policy and either a Lifetime Warranty or Forever Lifetime Warranty.