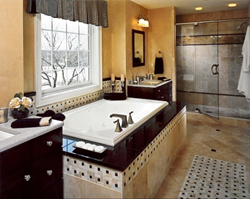 It is recommended that homeowners flush and clean their tankless water heater at least once a year.
Vancouver, WA (PRWEB) June 30, 2015
All County Plumbing, located in Clark County Washington, has a blog on their website where they offer customers and local residents important tips and tricks to keep the plumbing in their home in the best shape possible. The company recently published a series of blogs about the importance of maintaining a tankless water heater and the steps in doing so.
ACP says this is a relevant issue because many homeowners are unaware of the fact that these water heaters need to be cleaned and flushed out every year. Failing to do so can lead to many problems with the water systems in the home.
The blog states that the purpose of a hot water heater is for it to heat the water that is needed for the home on demand. This process saves money in energy costs because it is not continuously keeping a supply of water hot. It only heats water as it is needed by those living in the home.
Tankless water heater companies recommend that homeowners flush and clean their units at least on a yearly basis to eliminate the buildup of minerals such as calcium within the unit. This is even more critical if the water running through the home is hard instead of soft. Over time, hard water can lead to a scaly buildup that can cause the heat exchanger within the heater to overheat. This will send an error code and lead to the system locking down. This is a problem because the homeowner will no longer have any access to hot water until the problem is resolved. This issue can be avoided by routinely flushing and cleaning out the system.
All County Plumbing says some units may let the homeowner know when it is time to consider flushing it. The process of cleaning and flushing a tankless water heater is fairly simple and can be done in about an hour. A properly maintained tankless water heater can provide hot water to the home for up to 25 years depending on the unit.
ACP does say that this process may be too difficult for some homeowners to complete on their own though. Anyone who feels uncomfortable performing the maintenance on their own should contact a licensed plumber for help.
About All County Plumbing
All County Plumbing in Vancouver, Washington has been a premier plumbing company for 18 years. They offer a wide range of residential and commercial plumbing services including fixture repair and replacement, leak repair, hot water heater installation and the repair, among others. All County Plumbing is licensed, bonded, and ensured, and offers 24/7 emergency service to customers in the Clark County Washington area.