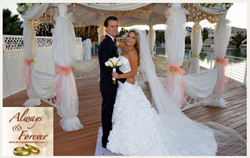 The average wedding in the United States costs more than $20,000
Las Vegas, NV (PRWEB) January 14, 2015
To celebrate the launch of their new website, Las Vegas based wedding consultants Always & Forever Weddings and Receptions is offering all-inclusive wedding packages for up to 20 guests starting at $2,600.
Always & Forever pride themselves in offering couples their dream weddings for a price that won't break the bank. Known for their gorgeous venues, couples can custom order and book their Las Vegas wedding and reception at venues like their awe-inspiring Lakeside Gazebo, which features an outdoor gazebo overlooking a 30-acre lake with picturesque views.
Always & Forever's team of wedding consultants has over 50 years combined experience in planning Las Vegas weddings and have helped hundreds of couples plan their special day.
"The average wedding in the United States costs more than $20,000," said Always & Forever owner Raquel Ryan.
"We pride ourselves on giving our clients a similar wedding and reception in Las Vegas for about a tenth of the price. And with our new Online Booking Engine, people can now plan every detail of their wedding and reception, including the date, right from our website. It's never been easier to plan your wedding. I believe it should be a joyous occasion, not a stressful one," Ryan went on to say.
To learn more about Always & Forever's All Inclusive Wedding Packages and to book your event now, visit Always & Forever Weddings and Receptions at: http://lasvegaswedding4u.com/product-category/all-inclusive-weddings/
About Always & Forever Weddings and Receptions
Always & Forever is an award-winning wedding and ceremony consulting firm with several indoor and outdoor ceremony and reception venues throughout the Las Vegas area. Always & Forever is known for their outstanding customer service and scenic indoor and outdoor venues throughout the Las Vegas region. The firm is owned by renowned wedding consultant Raquel Ryan.
Contact Information
Always & Forever Weddings and Receptions
2902 Lake E Dr, Las Vegas, NV 89117
Contact Name: Raquel Ryan
Contact Phone: (702) 318-5683
Email: info(at)lasvegaswedding4u(dot)com
Website: http://lasvegaswedding4u.com