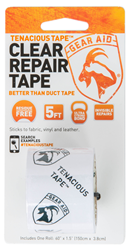 The handy dispensable roll and longer size allows you to use this repair tape like any other tape in the clutter drawer. Unlike other household tapes, however, the Tenacious Tape Roll is much more durable and won't leave a sticky residue if removed
Bellingham, WA (PRWEB) August 18, 2015
Gear Aid® introduces the Tenacious Tape™ Roll, an all-purpose repair tape that sticks to just about any surface. The Tenacious Tape Roll is unique in that it offers five feet of repair tape for longer tears or seams on a dispensable roll. It instantly fix fixes rips, holes and tears on both fabric and non-fabric surfaces.
"The Tenacious Tape Roll is more like a repair tape that you can keep around the house," said Gerald Craft, consumer marketing director. "The handy dispensable roll and longer size allows you to use and store this repair tape like any other tape in the clutter drawer. Unlike other household tapes, however, the Tenacious Tape Roll is much more durable and won't leave a sticky residue if removed."
The Tenacious Tape Roll utilizes a PVC fabric and an ultra-aggressive adhesive that strengthens over time. The clean-adhesive technology allows the tape to be moved without leaving behind a sticky residue. Each 1 ½'' x 60'' roll of all-purpose repair tape is easy to use and can be applied to most household surfaces and fabrics. For more information, please visit: https://www.mcnett.com/gearaid/tenacious-rolls#10770.
About Tenacious Tape
Tenacious Tape by Gear Aid is a line of repair tapes and patches that allow for instant repairs to holes, tears and rips in gear and fabrics. Included in the line is a reflective tape, Tenacious Tape Reflective, for adding visibility to outdoor gear and fabrics; custom patches, Tenacious Tape Tattoos, for customizing gear and clothing with fun shapes and themes; an inflatable repair patch, Tenacious Tape Max, for making repairs to inflatables; a down jacket repair patch, Tenacious Tape Mini, for fixing down jackets; a camouflage repair patch, the Gear Patch, for camouflage repairs; and repair patches and tapes.
About Gear Aid
Part of the McNett family of brands, Gear Aid features trusted repair and maintenance products for outdoor gear. With nearly 100 products designed to fix, repair and maintain the life of outdoor equipment and outerwear, Gear Aid takes care of the gear that takes care of you. For more information, please visit: McNett.com/GearAid.
Contact:
Gerald Craft
Consumer Marketing Director
360-671-2227