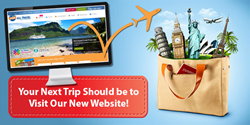 We wanted our website to match the needs of our clients. Now, users can have access to the best travel deals, hot specials, and knowledgeable travel specialists with just a few clicks of a mouse or a scroll/swipe of a finger.
Los Angeles, CA (PRWEB) January 22, 2015
All-Travel, a privately held online travel agency, announces the launch of their newly redesigned website, All-Travel.com. All-Travel also recently celebrated 30 years of being in business; an extremely commendable and remarkable feat considering the short average lifespan of a travel agency.
All-Travel understands not all vacation packages are ever the same and believes developing relationships and making connections are key to helping customers get the most out of their vacation and budget. All-Travel's travel agents tailor services to each individual, while providing expert knowledge about each destination, cruise, land vacation, hotel or package, exceeding the value of any booking engine. With the redesign, All-Travel.com now offers visitors the tools to better plan their next vacation.
The new All-Travel website includes enhancements like easier site navigation, better image displays, faster access to content, user reviews and more. The four most notable enhancements are:
1. Responsive Format. All-Travel is a company that embraces change and innovations while improving the user experience. A responsive format means that the display of a website will always be optimized regardless of the device, whether viewing on a desktop, tablet or mobile phone. The browsing experience will be consistent and visually appealing on any device that is being used.
2. A new navigation in mobile and tablet view. The interface and design includes large clear buttons that hones on natural tendencies so users can find exactly what they want. Large clean fonts and icons support users to learn more, browse easily, get tips and gain valuable insights. The contact information is also readily available and presented for when vacation seekers are ready to move onto the next step.
3. NEW hot and trending destinations. All-Travel knows it is all about the clients' experiences whether it is before, during and even after travel. On top of the best prices and deals on the internet, All-Travel remains ahead of the curve showcasing new and hot trending destinations. For instance, in 2015 the Milan Expo opens in May for six months and is expected to draw 20 million visitors; a European cruise into Venice is an excellent option. There is also a trend for local cuisine and living like a local. All-Travel specialists are actively engaged and informed of entertainment and cultural centers opening, socioeconomically factors, seasonal destinations and exciting new itineraries.
4. More valuable content NOW. New ships and new sailings are updated daily such as the luxurious Regent Seven Seas Explorer ship that was just announced and is already buzzing. The maiden voyage doesn't set sail until July 20, 2016, but All-Travel already has priority on the best available rooms and suites. All-Travel has their clients and the end-user in mind. They seek to inspire and empower users.
"All-Travel website users are technologically savvy individuals who use the Internet to find the best deals in the hottest destinations around the world," said David Van Ness, Vice President of All-Travel. "We wanted our website to match the needs of our clients. Now, users can have access to the best travel deals, hot specials, and knowledgeable travel specialists with just a few clicks of a mouse or a scroll/swipe of a finger."
The All-Travel website is designed to assist travelers with finding and booking their dream vacation, including cruise packages, tours, land vacations, transportation, hotels and more. With in-depth travel experience and a superior knowledge of destinations, the All-Travel website is intended to be a one-stop shop for all types of travelers. All-Travel retains a 94% customer satisfaction rate through its product and destination expertise, providing highly personalized and friendly service. All-Travel's best Price Guarantee ensures clients will gain access to exclusive amenities and privileges at the best available price at the time of booking.
All-Travel mentions one very important note, because of their network and prestige, All-Travel can offer very special rates and last minute deals that cannot be advertised anywhere on the web. In this instance, speaking directly with a travel consultant is the best course of action. Clients ultimately want to speak with a live person to help unravel the myriad of options available and obtain guidance. They want to have their choices validated and need a contact if there is an issue or anything goes wrong.
All-Travel believes booking a quality vacation will be easier than ever before. Patrick Mack, Senior Travel Consultant at All-Travel, "Planning a trip shouldn't be stressful, and the comprehensive knowledge of our travel specialists combined with the improved design of our website are intended to take the guesswork and anxiety out of travel."
Also with the redesign, All-Travel is looking to inspire and engage visitors in their "Greatest Trip of My Life" campaign or #GTOML which is set to run until the end of February. Complete details are on the website.
About All-Travel
All-Travel is an award winning online travel agency located in West Los Angeles, CA. All-Travel specializes in luxury travel and cruise vacations for leisure and business travel. All-Travel thrives on their A+ rating by the Better Business Bureau and retains a high level of customer satisfaction by delivering extraordinary levels of service and insight to their clients, as well as the most competitive prices. For more information about All-Travel, visit http://www.all-travel.com.
###