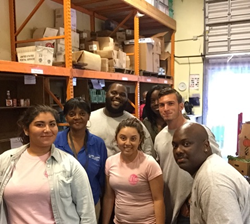 "It was a great experience to actually meet the people we were helping," said Ryan Carr
Fort Lauderdake, Florida (PRWEB) November 21, 2014
All Year Cooling is a local South Florida air conditioning company that is heavily invested in its community. On November 18th, its team got together to volunteer for Thanksgiving for LifeNet4Families, a non-profit organization dedicated to feeding the hungry in Broward County, Florida.
The team spent the day sorting, packing and handing out food to individuals and families in need. Five team members from All Year Cooling sorted food from shelves and packaged the items into crates that were transported to Fort Lauderdale's Brazilian Temple. From there, other volunteers gave away food packages to those in need. The All Year Cooling team also gave away food to about 25 families who came to LifeNet4Families center.
"It was a great experience to actually meet the people we were helping," said Ryan Carr, an All Year Cooling employee. "One family with seven kids came, so we gave them a little extra," he said. According to Carr, the volunteers packed boxes full of Thanksgiving foods like mashed potatoes, stuffing and canned vegetables along with everyday items like cereal and milk.
Kevin Zacharias, All Year Cooling's general manger, was thrilled that the company was able to make a difference in its community. "We're a local business, so we feel committed to the South Florida community," Zacharias said. "It was a great opportunity for our employees to make a difference this Thanksgiving," he said.
LifeNet4Families began feeding the homeless over 29 years ago. Since then, the Broward County organization has grown, and now donates 1.3 million meals a year. They have a community kitchen where people can go for a hot meal and an emergency food pantry for families when times are tough. The non-profit also provides family counseling and employment support.
All Year Cooling strives to make a difference in its community. Last month, the company donated $1,000 to the American Cancer Society for Breast Cancer Awareness Month after turning its website pink in honor of the cause.
All Year Cooling has been in business in South Florida since 1973. It serves customers from Vero Beach to the Keys and specializes in air conditioning repair, maintenance and installation. President Thomas Smith's priority is satisfying his customers. He is available on his cell phone at 954-773-8619.