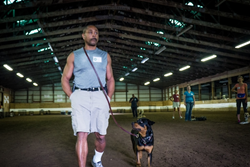 ALL4DOGS, a crate-free dog daycare center, is looking to expand
Beacon, NY (PRWEB) February 05, 2015
Leroy Williams loves dogs, they love him and he loves taking care of them. For the past 12 years, he has operated a service out of his Beacon, N.Y., home that provides dog-walking, training and available crate-free boarding.
This means friendly behaved dogs are out and about during the day and sleep in crates at night. Crates are available only for safety reasons. The real difference is that the friendly dogs spend the day socializing with other dogs rather boxed in all day.
Williams also takes on dogs that are hard to manage or might be headed for the city pound where they might be killed if no one adopts them.
It's called ALL4DOGS. Williams has built up a nice dog daycare business through word-of-mouth referrals and he travels to dog-training seminars around the country to keep improving his services. ALL4DOGS has become quite popular in the area and Williams would like to expand his business so he can help more families and more dogs.
"I provide a very valuable service to the owners and to the dogs," he says. "The dogs are not only taken care of in a very responsible manner but they receive a lot of loving care. They're not caged or crated up. I pay a lot of attention to them.
"ALL4DOGS is the only crate-free dog boarding service in this area. The dogs get exercise and are fed well. They are really happy."
Williams has found a new facility just a few miles away that would be perfect for his business. He has run into a snag, however.
"My credit is fine," explains Williams. "The problem is that I changed from a DBA to an LLC at the very end of 2013. The banks want two years of financial records for ALL4DOGS but I do not have that for this legal name. So I'm not able to get a conventional bank loan."
His business plan calls for $20,000 in start-up capital for a move to the new facility. He needs $8,000 for rent, $5,000 to hire staff, $6,000 for fencing and other construction and $1,000 for advertising.
In order to generate this funding, he has launched an Indiegogo campaign, which can be viewed at http://www.indiegogo.com/projects/all4dogs-your-dogs-home-away-from-home.
Donations of any amount are welcome. For a $50 contribution, backers receive a 10 percent discount on dog-walking services. A $100 pledge is good for a six-week basic training course for a shelter dog. Those who donate $1,000 will get one year of free socialization classes.
"I am really committed to this project," says Williams. "I have a great customer base and many others who would like to take advantage of this unique service. I have two veterinarians and Second Chance Rescue out of New York City who want to send dogs to my new facility. All I need is some money to get started."
For additional information, visit http://www.indiegogo.com/projects/all4dogs-your-dogs-home-away-from-home; the ALL4DOGS website, http://www.allfordogs.net; or the ALL4DOGS Facebook page, http://www.facebook.com/allfordogs.training.
Williams can be reached directly at leroy8182(at)aol(dot)com.