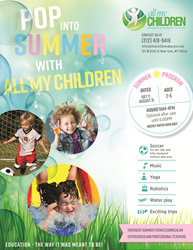 Experienced and professional teachers will run the summer program, providing top-notch care for the children under their watch
NEW YORK (PRWEB) March 03, 2019
While some centers such as the Lower East Side location admit infants from three months to five-year-old preschoolers, other locations, for instance, the Upper West Side, accept children from two-six years of age. For your convenience, a list of available locations is available on their websit.
The summer program hours are 8:00 am through 4:00 pm, Monday through Friday, and optional after-care hours are available until 6:00 pm.
Experienced, proficient and professional teachers and directors will supervise the summer program as they provide superior care for the children they are instructing. The summer options include a variety of sports-on-site as well as a fully-equipped outdoor play area. Water play and yoga are included in the stimulating athletics program while music and arts & crafts provide an outlet for creativity. The Upper West Side location will feature soccer, robotics, and exhilarating off-campus trips along with the music, yoga, and water play. Additional summer- themed activities will be enjoyed by the children throughout the summer including an emergent curriculum catered to the season.
Weekly rates and the full summer program are available. Please contact All My Children Daycare & Nursery School via online or call: (212) 419- 5416