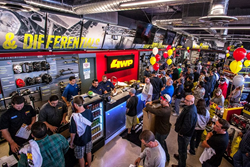 We've had a great response to our store's new design and customers are amazed at the transformation and how much product we have on display.
Compton, California (PRWEB) September 16, 2016
4 Wheel Parts, the global leader in off-road performance product sales and installation, is staging a grand reopening celebration on Saturday, September 17 at its newly renovated retail store in Plano, Texas. The freshly-minted location has undergone a substantial remodeling that will be unveiled at the festive family-friendly event featuring significant discounts, multiple giveaways and installation specials.
"We've had a great response to our store's new design and customers are amazed at the transformation and how much product we have on display," says 4 Wheel Parts Midwest Regional Manager, Blaine Shipman. "The reopening celebration will feature a $500 4 Wheel Parts gift card giveaway and Rampage is giving away a free Jeep soft top with installation, worth over $1,000."
Numbering among the many recent 4 Wheel Parts locations receiving state-of-the-art redesigns, the Plano store sports a cutting edge showroom featuring the aftermarket industry's most comprehensive collection of off-road, truck and Jeep aftermarket products and accessories in an accessible, user-friendly setting. This Saturday's free event gives customers in attendance a unique chance to experience 4 Wheel Parts' novel off-road shopping concept in person while they enjoy activities including an RTI ramp, car crush and free barbecue provided by local Collin County Jeep Club. Attendees can take advantage of deep discounts on the Jeep, truck and SUV parts and accessories and purchase from premier, popular off-road brands.
In addition to the Collin County Jeep Club, the Lone Star and North Texas Jeep clubs will attend to give Jeep enthusiasts tips, tricks and concepts for potential builds. Exclusive onsite grand reopening discounts and promotions include hourly giveaways and ASE-certified technicians will provide installation discounts on select parts purchased.
The celebration is free to the public and 4 Wheel Parts' Plano location joins its lineup of 75 4 Wheel Parts retail locations across North America. The store will be serviced by a distribution center in Coppell, Texas and becomes the 11th 4 Wheel Parts' location in Texas, joining ones in Austin, Coppell, Dallas, El Paso, Fort Worth, Houston (3), McAllen and San Antonio.
What: 4 Wheel Parts Grand Reopening Celebration
When: Saturday, September 17 from 9 a.m. – 5 p.m.
Location: Plano, Texas
3001 E. Plano Pkwy Suite 400
Plano, TX 75074
972-578-7825
Free Admission
About 4 Wheel Parts
4 Wheel Parts is the global leader in truck, Jeep, SUV and off-road performance products. With 75 locations across the U.S. and Canada and growing, 4 Wheel Parts Service Centers install all the products they sell. Maintaining the nation's largest inventory of off-road all-terrain tires, wheels, suspension products and hi-lift jacks, 4 Wheel Parts serves customers across the country and around the globe. Life is Better Off-Road™. Visit them at 4wheelparts.com or call toll-free 877-474-4821.