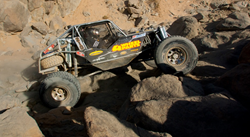 We're prepared from a car standpoint and think this car will work better in the rocks and in the desert.
Compton, California (PRWEB) January 31, 2015
Team 4 Wheel Parts is loaded up and looking forward to competing in multiple events at the upcoming Nitto King of the Hammers off-road event in Johnson Valley, California. The annual weeklong competitions from January 30-February 7 include the Smittybilt Every Man Challenge, the Vision X ULTRA4 vs. SRRS East/West Shootout and the marquee event - the Nitto King of the Hammers, presented by 4 Wheel Parts. Representing 4 Wheel Parts across multiple classes are President and CEO Greg Adler, Advertising Director Brent Goegebuer and Eric "Mustard Dog" Anderson.
This year, 4 Wheel Parts has been named as the presenting sponsor of King of the Hammers events. The pinnacle of Hammers week is the Friday, February 6 unlimited race with Ultra4 cars. In 2014, Adler posted a total of five trips to the podium in short course off-road racing competition and now looks to parlay this success to Ultra4 off-road racing.
Race organizer Dave Cole has lengthened the course to 215 miles of desert racing and rock crawling. Traditionally, the grueling unlimited race has an astronomical attrition rate with over half of the cars bowing out after 50 miles in. "We're prepared from a car standpoint and think this car will work better in the rocks and in the desert," says Adler. The recent trend has seen a surge in racers running IFS (independent front suspension) and both Adler and Goegebuer's vehicles are sporting IFS.
"This is a brand new car," says Goegebuer. "We want to challenge for the Ultra4 title and in order to be competitive you have to update your equipment. The new car with independent front suspension is going to be much more agile across the desert at high speed while still being able to take on the rocky sections. It's going to be a steep learning curve, but I'm excited to take on the challenge."
Among the fastest growing motorsports in the country, ULTRA4 racing is a unique form that allows competitors to utilize off-the-shelf parts combined with custom tube chassis and advanced off-road technology. Among the off-the-shelf products used on Adler's car are BFGoodrich tires, Pro Comp wheels, Mastercraft seats and safety gear, Fox Shox, and the Smittybilt X20 Gen2 winch.
King of the Hammers has developed from a small gathering of competitors taking on a distinctive desert challenge to a nationally recognized event attracting over 60,000 spectators for the week and close to 400,000 viewers via digital broadcast outlets. Over 350 competitors are anticipated to descend on Johnson Valley in the coming week for the event.
About 4 Wheel Parts: 4 Wheel Parts is the global leader in off-road, Jeep and aftermarket performance products. With 66 locations across the US and Canada and growing, 4 Wheel Parts Service Centers install all the truck and Jeep parts they sell. Carrying the nation's largest inventory of off-road products, 4 Wheel Parts serves customers looking for all terrain tires, Smittybilt gear, the Nitto Terra Grappler and more. Visit us at 4wheelparts.com or call toll-free 877-474-4821.