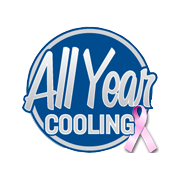 Unfortunately, many women in the South Florida community are affected by breast cancer, so everyone at All Year Cooling is proud to contribute to a cause near to all of our hearts
FORT LAUDERDALE, Fla. (PRWEB) October 03, 2018
All Year Cooling, a South Florida air conditioning installation and repair company, donates a portion of all income from October AC installations in honor of Breast Cancer Awareness month. This will be the fifth year that All Year Cooling has donated a portion of their revenue to Cancer.org.
All donations help the American Cancer Society fund groundbreaking breast cancer research to help prevent breast cancer and find it earlier, when it's easier to treat. In addition, the donation money will assist the organization in providing free information and support to any women affected by the disease.
"Unfortunately, many women in the South Florida community are affected by breast cancer, so everyone at All Year Cooling is proud to contribute to a cause near to all of our hearts," said Tommy Smith, the president of All Year Cooling.
In addition to the donation of October's proceeds, the local HVAC company is also dedicating its website to Breast Cancer Awareness by changing its design to feature the pink ribbon symbol as well as an overall pink theme.
Cancer.org is a great way for people to get involved with donating to various types of cancer research. Since working with them, the company has been able to raise a considerable amount for the cause. As a family-owned and local company, All Year Cooling greatly values giving back to the South Florida community. All Year Cooling gives a portion of its proceeds to veterans through Project We Care, a local non-profit organization, has created a scholarship to help local students attend university, annually supports Breast Cancer Awareness, and contributes to many Broward County classrooms.
More about All Year Cooling:
Established in 1973, All Year Cooling has completed over 350,000 air conditioner installations in South Florida. Their goal is to provide the consumer with the best overall value and service on new air conditioner installations, maintenance, and repairs. Tommy Smith along with his team makes it their mission to provide quality service and remain a trusted part of the South Florida community. Call All Year Cooling for all your AC needs at 888-204-5554! You can also visit their website at http://www.allyearcooling.com/