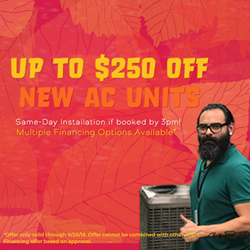 Our customers are our #1 priority! We are making it our mission to ensure all homes are cooling properly in the South Florida community
FORT LAUDERDALE, Fla. (PRWEB) September 21, 2018
This week, most Americans can say goodbye to summer and hello to the chilly fall season. Floridians, however, cannot boast the same ideals of sweater weather, and can routinely expect an extension of the summer season until December when the temperatures lower a few degrees.
Although Floridians are lucky to miss out on frigid weather and can enjoy the sunshine throughout the year, the heat poses a problem when your home's air conditioning unit isn't working properly. For this reason, All Year Cooling understands the cruciality of an ac unit that keeps home feeling fresh, cool, and comfortable.
The fall offer includes up to $250 off new air conditioning units and same-day installation if booked by 3 p.m. Additionally, All Year Cooling has 18-month financing options available for those who need assistance. Extending now through September 26, 2018, the offer cannot be combined with any existing offer. The offer is available here: https://www.allyearcooling.com/250-off-new-ac-units/
"Our customers are our #1 priority! We are making it our mission to ensure all homes are cooling properly in the South Florida community," said Tommy Smith, president of All Year Cooling.
In addition to AC install, the HVAC company also provides maintenance and repairs for AC units on the fritz.
Proven by the hundreds of All Year Cooling reviews and testimonials on Facebook, Google, and other platforms, we value our customers and their experience with us more than anything. With over 350,000 satisfied customers, we won't be undersold!
MORE ABOUT ALL YEAR COOLING:
Established in 1973, All Year Cooling has completed over 350,000 air conditioner installations in South Florida. Tommy Smith and his team's goal is to provide the consumer with the best overall value on new air conditioner installations, maintenance, and repairs. As a family-owned business, it's their mission to provide quality service and remain a trusted part of the South Florida community.
For more information on All Year Cooling, please visit their website (http://www.allyearcooling.com/) or call 888-204-5554.