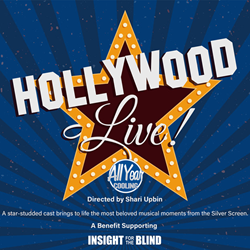 Giving back to the local community is one of our core values at All Year Cooling and we're proud to support the Insight for the Blind mission to promote literacy within the blind and visually impaired community
FORT LAUDERDALE, Fla. (PRWEB) September 20, 2018
All Year Cooling, a family-owned air conditioning installation company in South Florida, is giving back to the community with its donation to Insight for the Blind, a local non-profit with a mission to improve the quality of life for blind and visually impaired people.
Insight for the Blind helps the blind and visually impaired community by promoting literacy and learning through its production of recording books, magazines, and articles. Insight produces Talking Books at no cost to the Library of Congress Library Service, Florida Division of Blind Services or to any other public agency.
With a mission to help anyone who has trouble reading print, Insight for the Blind is presenting Hollywood Live!, a benefit concert Monday, October 1 at the Pompano Beach Cultural Center. Directed by Shari Upbin, the evening of entertainment will showcase some of the most beloved songs from the silver screen from the 1940s on.
"Giving back to the local community is one of our core values at All Year Cooling and we're proud to support the Insight for the Blind mission to promote literacy within the blind and visually impaired community," said Tommy Smith, the president of All Year Cooling.
As a family-owned and local company, All Year Cooling greatly values giving back to the South Florida community. In addition to its recent donation to Insight for the Blind, All Year Cooling actively makes contributions to the community throughout the year.
All Year Cooling gives a portion of its proceeds to veterans through Project We Care, a local non-profit organization has created a scholarship to help local students attend university, annually supports Breast Cancer Awareness, and contributes to many Broward County classrooms.
More about All Year Cooling:
Established in 1973, All Year Cooling has completed over 350,000 air conditioner installations in South Florida. Their goal is to provide the consumer with the best overall value and service on new air conditioner installations, maintenance, and repairs. Tommy Smith along with his team makes it their mission to provide quality service and remain a trusted part of the South Florida community. Check out All Year Cooling reviews at https://www.allyearcoolingreview.com/. Call All Year Cooling for all your AC needs at 888-204-5554 or visit their website at http://www.allyearcooling.com/!