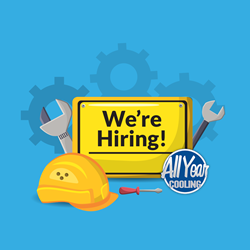 FORT LAUDERDALE, Fla. (PRWEB) September 15, 2018
Local South Florida air conditioning installation and repair company, All Year Cooling, is expanding their HVAC career workforce. To give an equal opportunity for their open positions, they will be holding their first ever Open House at their Fort Lauderdale office.
Attendees and prospective technicians will learn more about All Year Cooling, job requirements, and will meet their senior technical director to ask any additional questions.
The HVAC Technician Open House will be held at the Fort Lauderdale All Year Cooling office location on Thursday, September 20th, 2018 from 2:00 p.m. – 3:00 p.m. and is open to the public. All Year Cooling is located at 1345 Northeast 4th Ave. Fort Lauderdale, FL 33304.
Attendees of the Open House must bring a resume and complete the following questions (answers may be typed or handwritten):

When mounting a new thermostat, what are the two most important things to make sure the customer is happy and the thermostat functions correctly?
What are two critical measurements required to diagnose the refrigerant system?
A float switch is connected to what two terminals?
How would you greet your customer when you arrive at their home?
As Tommy Smith, President of All Year Cooling states, "We would like to host this open house to give everyone a chance to work with a great AC company. We have many opportunities throughout our company that we hope to find great candidates for."
Established in 1973, All Year Cooling has been in business for the past 45 years and has over 350,000 satisfied customers in South Florida. All Year Cooling's goal is to provide the consumer with the best overall value on new air conditioner installations, maintenance, and repairs. As a family-owned business, it's their mission to provide quality service and remain a trusted part of the South Florida community.
For more information on All Year Cooling, please visit their website (https://www.allyearcoolingcareers.com/) or call 888-204-5554.