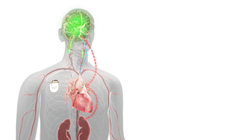 "Today's announcement is an exciting milestone for our heart failure patients...it provides another novel approach that is proven to minimize heart failure's damaging effects and restore a patient's overall quality of life," -- Dr. Satish Muluk, director of AHN Division of Vascular Surgery.
PITTSBURGH (PRWEB) October 24, 2022
Vascular surgeons from Allegheny General Hospital (AGH) Cardiovascular Institute, the flagship academic medical center of Allegheny Health Network (AHN), announced today the first successful implant of a new neuromodulation device used as an alternative therapy for patients with progressive heart failure (HF) who may not be receiving adequate relief from medical therapies.
The device, titled Barostim™ Baroreflex Activation Therapy, is from Minneapolis-based med tech company CVRx and is the world's first FDA-approved HF device to use manipulation of the nervous system to reinvigorate the heart and improve its function.
The implant procedure took place in early September under the clinical direction of Satish Muluk, MD, vascular surgeon and director of AHN Division of Vascular Surgery and Srinivas Murali, MD, heart failure specialist and System Chairman of the AHN Department of Cardiovascular Medicine.
"Heart failure is a condition that causes the muscle in the heart wall to slowly weaken and enlarge, preventing the heart from pumping enough oxygenated blood throughout the body," explained Dr. Muluk. "The symptoms of heart failure are often progressive, and the condition can worsen on medical therapy alone. Today's announcement is an exciting milestone for our heart failure patients throughout western Pennsylvania as it provides another novel approach that is proven to minimize heart failure's damaging effects and restore a patient's overall quality of life."
According to the American Heart Association, heart failure is one of the most common reasons people over the age of 65 are admitted to the hospital. It's a chronic condition with symptoms ranging from shortness of breath and extreme fatigue to lightheadedness and fluid retention, among others.
Approximately six million Americans are currently living with heart failure and research indicates the number of individuals living with cardiovascular disease will likely surge to 12.9 million by 2060. From a local perspective, the leading cause of death in Allegheny County is heart disease, above cancer, accidental injuries and cerebrovascular disease. Furthermore, heart disease in the Greater Pittsburgh population tracks notably higher than the state average, according to the PA Department of Health.
To date, the prescribed course of management involves a multidisciplinary approach involving medical therapies, lifestyle enhancements and surgical interventions ranging from minimally invasive implantations of pacemakers and defibrillators to more aggressive management paths of open-heart surgery to implant a left-ventricular assist device (LVAD) or heart transplantation.
Unlike other HF treatment options, Barostim does not require any hardware implantation in the heart but uses an electrode that's placed on the patient's carotid artery within the neck during a minimally-invasive outpatient procedure. The electrode provides continuous electrical stimulation to the body's carotid baroreceptors, the body's natural mechanism that regulates cardiovascular function.
Barostim's stimulation triggers both the body's sympathetic ("fight or flight" response) and parasympathetic ("rest and digest" response) nervous systems to create a unique balance that in turn better regulates the function of a patient's heart, kidney and vascular system.
"Unlike a pacemaker, Barostim stimulates the nervous system to address a neuro-hormonal imbalance which is the root cause of heart failure. In many instances, the baroreceptors in heart failure patients have lost their vigor and so this device kick starts the nervous system into high gear restoring neuro-hormonal balance which in turn improves cardiovascular performance," explained Dr. Murali. "Patients can go home on the same day as the procedure, and our team gradually adjusts the output of the device over the next few weeks to specifically tailor electrical stimulation to achieve optimal improvement of the patient's symptoms."
The Journal of the American College of Cardiology published a study (https://doi.org/10.1016/j.jacc.2020.05.015) from cardiovascular researchers demonstrating the overall effectiveness of Barostim in a controlled patient population living with heart failure and a reduced ejection fraction. Four patient cohorts were created from 408 randomized patients with select groups receiving baroreflex activation therapy and medical management or solely optimal medical management. Results showed Barostim patients were able to walk about 65 yards further in six minutes and had three times greater improvement in quality-of-life scores when compared to patients on medications alone.
"Providing innovative treatment options for heart failure patients is an important endeavor and we congratulate Drs. Muluk and Murali and Allegheny General Hospital on a successful Barostim implantation," said Nadim Yared, President and CEO of CVRx. "We look forward to continuing to support Allegheny General Hospital to help more patients live fuller lives."
For more information or to make an appointment with AHN Cardiovascular Institute, visit ahn.org.
###
About the Allegheny Health Network:
Allegheny Health Network (AHN.org) is an integrated healthcare delivery system serving the greater Western Pennsylvania region. The Network is composed of 14 hospitals, ambulatory surgery centers, Health + Wellness Pavilions, multiple employed physician organizations, home and community based health services, a research institute, and a group purchasing organization. The Network provides patients with access to a complete spectrum of advanced medical services, including nationally recognized programs for primary and emergency care, trauma care, cardiovascular disease, organ transplantation, cancer care, orthopedic surgery, neurology and neurosurgery, women's health, diabetes, autoimmune disease and more. AHN employs approximately 21,000 people, has more than 2,600 physicians on its medical staff and serves as a clinical campus for Drexel University College of Medicine and the Lake Erie College of Osteopathic Medicine.