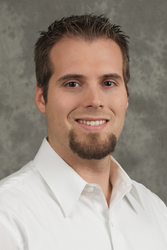 "Having an MVP on the staff shows the caliber of leaders we have on our team." Gregg Gallant, President Allegient
Carmel, IN (PRWEB) August 03, 2016
Allegient LLC, a business information technology-consulting firm focused on translating business challenges into technology solutions, announces today team member Daryl LaBar has been named a Business Solutions Microsoft MVP for his work and industry leadership in Dynamics CRM community. LaBar is the first-ever Allegient team member to be named to this exclusive designation, which includes just 55 professionals nationwide.
"Having an MVP on the staff shows the caliber of leaders we have on our team," says Gregg Gallant, president Allegient. "This recognition showcases the thought leadership and technical expertise consultants such as Daryl possess and apply to client projects each day."
The criteria used to evaluate the MVP professionals list includes: the impact of a nominee's contributions to online forums, such as Microsoft Answers, TechNet and MSDN; wikis and online content; conferences and user groups; podcasts, websites, blogs and social media; and articles and books. Each nominee's contributions are compared to those of other candidates, and active MVPs receive the same level of analysis as new candidates each year.
LaBar is an active member of the global CRM community, participating as a Stack Overflow CRM leader and XRM user group presenter/organizer. His work has been globally recognized through his development of one of the two unit-test frameworks for CRM in the world. LaBar said, "It is a feeling of great humility to be included with such an amazing group of fellow MVP award winners. I am truly honored to receive this distinction and look forward to continuing to contribute to the Microsoft Dynamics CRM community."
In the United States, there are 694 Microsoft MVPs with a global total of 4,000 in 10 award categories, which include 90 contributing areas. For more information about the MVP program, [click here.
About Allegient LLC
With offices in Indianapolis and Chicago, Allegient LLC is a business information technology-consulting firm focused on translating business challenges into technology solutions. As Microsoft go-to Partner with all Gold & Silver Competencies, Allegient has been the consultant of choice for many enterprise level clients since its inception in 2001. The firm's unique approach brings business knowledge to the table first before advising on the best technology solution. Consulting Services include Business Analysis, Project Management, Data & Analytics, Customer Relationship Management, Enterprise Collaboration, Application Development and User Experience Design.