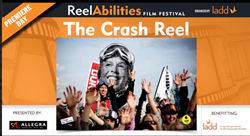 The largest national film festival dedicated to celebrating the lives, stories and art of people with disabilities.
CINCINNATI, Ohio, (PRWEB) February 09, 2015
Allegra Marketing | Print | Mail has announced its participation as a silver popcorn sponsor of the Cincinnati ReelAbilities Film Festival Feb. 27-March 7, 2015. ReelAbilities is the largest national film festival dedicated to celebrating the lives, stories and art of people with disabilities. The event will host a lineup of celebrities and feature 17 films that experience and explore disability issues.
Academy Award- and Golden Globe-winning actress Marlee Matlin will help kick off the Cincinnati ReelAbilities Film Festiva as keynote speaker for the ReelAbilities Awards Premiere Luncheon at the Hyatt Regency Cincinnati Feb. 27. Actors Danny Woodburn, Kurt Yeager, Daryl Chill Mitchell, and Project Runway finalist Justin LeBlanc will also be in attendance.
Each of the 2015 Festival film screenings is hosted by and benefits a Cincinnati area nonprofit organization whose work enriches the lives of people who experience disability. This year, Allegra Cincinnati will sponsor the film, "The Crash Reel," a dramatic story of professional snowboarder Kevin Pearce, who suffered a traumatic brain injury in 2009 during training on the superpipe in Park City, Utah. The film will be shown Saturday, Feb 28 at 1:30pm at the Kenwood Theatre, with Kevin Pearce in attendance.
Festival screenings will be hosted by and benefit Cincinnati nonprofit organizations. Screenings are thought-inspiring events with discussions scheduled after each film, many including VIPs featured in the film. The nine-day festival offers a variety of ticket pricing, including an all-access film pass for $50. Allegra Cincinnati will be giving away two all-access passes through a website promotion. To enter, visit the Allegra website entry form. Allegra will announce the winners February 24, 2015.
The ReelAbilities Film Festival is a national event that was founded in New York and is now headquartered in Cincinnati. The festival is organized by LADD (Living Arrangements for the Developmentally Disabled) and presented by Macy's. ReelAbilities hosts 13 festivals in cities nationwide, all celebrating the stories of people with disabilities.
For more information, visit the Allegra website, email steve(at)allegracinci(dot)com, or call (513) 554-1797 office.
About Allegra Marketing • Print • Mail
Allegra Cincinnati is an independently owned and operated member of the Allegra Network, one of the world's largest business-to-business (B2B) franchises. Allegra's Cincinnati branch is owned and led by Steve Kapuscinski, an engineer and business development specialist.
Allegra has been helping small and medium-size businesses and non-profits reach the right audiences through specialized tools that take advantage of the new channels, technology and products available to marketers. Allegra offers award-winning design services, engaging writing services, web development, marketing expertise and custom printing services.
The creative experts at Allegra partner with clients to customize strategies that grow companies and organizations. A one-stop local resource for all marketing and communications needs, Allegra is backed by the accumulated experience of more than 500 sister companies generating more than $300 million in sales and a portfolio showcasing thousands of marketing successes in a wide variety of industries.
###