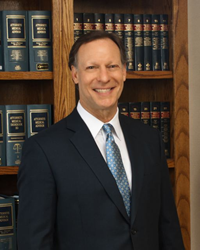 Quote from Allen Rothenberg: "We are honored to have Mr. Strauss join our firm."
Philadelphia, PA (PRWEB) March 25, 2014
Named one of Philadelphia's Top Rated Lawyers of 2013 by Legal Leaders, Brian is a welcomed addition to the firm's distinguished law staff.
Brian, an AV Preeminent rated attorney, has extensive litigation and jury trial experience, representing clients in complex, multi-million dollar lawsuits involving nursing home abuse and neglect, medical malpractice, motor vehicle negligence, product liability and premises liability matters. Brian joins The Rothenberg Law Firm LLP with over 25 years of legal experience, having spent the past decade litigating significant personal injury cases.
In addition to his experience as a civil trial attorney, Brian served as a former Philadelphia Assistant District Attorney in the Homicide Unit. As an ADA in the Homicide Unit, Brian never lost a jury trial – a distinction rarely seen in most lawyers' careers. Upon completing his time at the DA's office, Brian embarked on a career in civil law as an attorney for the Philadelphia Fraternal Order of Police, where he worked for over 10 years. Brian later worked as an insurance defense trial attorney until he decided to focus his career in an area he felt he could make an enormous impact on people's lives, nursing home abuse and neglect. Brian joins The Rothenberg Law Firm LLP with great zeal and looks forward to continuing his pursuit of justice for victims of personal injury and those who have been abused at the hands of a nursing home.
Brian earned his J.D. from Loyola Law School, in 1977 and his B.A. from Temple University in 1974. He is licensed to practice law in the Commonwealth of Pennsylvania, State of New Jersey, State of West Virginia, U.S. District Courts, Eastern & Middle Districts of Pennsylvania, District of New Jersey & Northern District of West Virginia. Brian is also an active member of various Professional Associations including: the Philadelphia Bar Association, the Pennsylvania Bar Association, the New Jersey Bar Association, the Pennsylvania Association for Justice, and the American Association for Justice.
"We are honored to have Mr. Strauss join us. He is a man of great knowledge and experience who brings with him immense skill successfully litigating medical malpractice and nursing home abuse cases. Mr. Strauss previously worked under our Director of Litigation, Joseph C. Murray Esq., trying homicide cases. Mr. Murray fervently endorses Mr. Strauss and is elated to once again join forces - this time helping victims of catastrophic injury, medical malpractice and nursing home negligence."
Allen Rothenberg Esq., Founding Partner, The Rothenberg Law Firm LLP