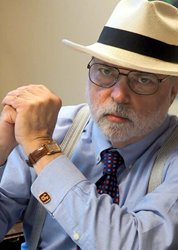 Knowing what is at stake for our clients, we live our cases, attend to details, and we take every case personally.
Raleigh, NC (PRWEB) March 28, 2017
Allen & Pinnix, P.A was founded in 1977. As the firm celebrates its 40th anniversary, John L. Pinnix, a founding member, reflects on the fact that the firm is the oldest immigration practice in North Carolina. As Pinnix recalls, within two years of the firm's founding, Noel Allen, who Pinnix calls a "visionary," spearheaded the launch of an immigration practice and convinced Pinnix to be the point person.
The partners committed resources from the outset. In the days before electronic libraries they were believed to have the largest immigration library between Washington, DC and Atlanta. "We knew we were in it for the long haul. To us it soon became a calling," said Pinnix. "Even though this is a nation of immigrants, when we started, immigration wasn't on anyone's radar. Now it's in front of everyone, 24/7."
The rest is history. Over almost four decades Allen & Pinnix immigration attorneys have represented thousands of individuals throughout the United States and from over 200 countries.
Allen & Pinnix, P.A. has handled every conceivable immigration matter, within broad realms that include family and employment cases, naturalization, and litigation. Pinnix, thus far, the only lawyer in North Carolina to become a national president of the American Immigration Lawyers Association (AILA), was a founding member of the Carolinas Chapter of the AILA. The Carolinas chapter has grown from eight attorneys to four hundred.
In 1980 Pinnix, who had experience in many areas of the law, decided to limit his practice to immigration and nationality issues. He was among the first North Carolina State Bar Board Certified Immigration Specialists. Over the years he has become a nationally recognized authority on immigration law and policy. He has taught at Elon, North Carolina Central and Duke University law schools. Pinnix is listed in Best Lawyers in America, North Carolina Super Lawyers and has attained Martindale-Hubble's highest rating, AV.
The immigration attorneys at Allen & Pinnix, P.A., including Pinnix and Lynn Calder, are uniquely qualified to evaluate a client's immigration status and advise them of options for themselves and their families. They also represent potential investors, U.S. employers needing foreign national workers, and companies who seek to transfer workers to the U.S. from abroad.
"Knowing what is at stake for our clients, we live our cases, attend to details, and we take every case personally," concluded Pinnix. "When results matter, experience counts."
About Allen & Pinnix, P.A.
The Raleigh, NC-based immigration attorneys of Allen & Pinnix, P.A. have practiced immigration law for over 40 years and have represented thousands of individuals in immigration matters, including employment-based immigration, U.S.citizenship/naturalization and deportation and removal proceedings.
The NC Board-Certified Specialists in immigration law, Jack Pinnix and Lynn Calder, have extensive experience in all non-immigrant visas and routinely assists clients in H-1B Nonimmigrant Visas, DACA (Deferred Action for Childhood Arrivals), E-2 Treaty Investor, L-1A Intracompany Transferee for Executive or Managers and L-1B Specialized Knowledge, Employment Authorization, U Status for Victims of Crime.
Additionally, Pinnix and Calder handle all family and business immigration before USCIS and U.S. Consulates abroad.
For more information about Allen & Pinnix, please call (919) 755-0505, or visit http://www.immigration-naturalization-law.com. The law office is located at 1101 Oberlin Road, Suite 102, Raleigh, NC 27605.
About the NALA™
The NALA offers small and medium-sized businesses effective ways to reach customers through new media. As a single-agency source, the NALA helps businesses flourish in their local community. The NALA's mission is to promote a business' relevant and newsworthy events and achievements, both online and through traditional media. For media inquiries, please call 805.650.6121, ext. 361