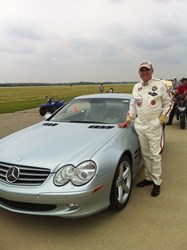 Waiting in the staging line of more than 160 cars and drivers surrounded by their families and crews and waiting for our next run down the soon to be famous 'Ohio Mile' is magic to me. I can't wait for my next run. - Allen Schwarzwalder
cincinnati, OH (PRWEB) December 12, 2013
Allen Schwarzwalder may not be the oldest race car driver, as that title belongs to 78-year old James Harvey Hilton who retired this year in the ARCA Racing Series. However, Allen would love to break that record to add to his mounting collection of race memorabilia.
Allen began his racing career in 1959, just before turning 16. By the time he graduated high school in 1961, he was drag racing at Edgewater Drag Strip in Cleves, Ohio. Not able to afford the weekly entrance fee, Allen became the flag man and then went on to be the announcer, which also provided free drag racing and hot dogs as perks. The quarter-mile track didn't hold his attention for long as he sought out other venues to satisfy his desire to compete at greater speeds and for longer periods of time. Before he could take his career further, and because of the Vietnam War, he enlisted into the US Navy. Allen deployed on the USS Evans an escort destroyer twice over four years on submarine search and destroy missions to Vietnam (South China Sea).
Returning from Active Duty to his home of Cincinnati in 1965, he soon began racing with the SCCA, Sports Car Club of America. Along with a friend, he bought a Formula V, an open-wheel formula car powered by a Volkswagen engine.
"Formula V is the most competitive racing of all," Allen said. "Everyone starts off with the same type of engine, leveling the playing field and winners get there by their driving skill, not by how much they can beef-up their engines. It was and still is a training ground for the pros, like Midgets and Sprint Cars."
Racing in an open wheel formula car, against such now famous racing families like the Andretti's (Michael) and the Unser's (Little Al), Allen was living his dream, and it was considered the stepping stone to Indianapolis. Allen remembers his dream of racing at Indy, but after four years, he had not won a race. When he left his job as manager of Volkswagen of Montgomery, Ohio, he lost his racing sponsor.
Against all common sense, Al listened to two of his friends who talked him into buying a stock car and driving on dirt circle tracks. In two and one-half years he had three major crashes. His last crash was over the racetrack wall, rolling over at least five times, nose to tail. The next year, he crashed his racecar and ended up on the center fold magazine page with the caption "And He Walked Away." That sent him away from racing and changed the course of his career.
When Allen began his own company, Corporate Marketing, selling promotional products to businesses, it seemed like racing really was a thing of the past, but in 1998, he went back to the Daytona Speedway and happened to meet up with a host of, now famous, former race car buddies he hadn't seen in more than 30 years. Al renewed a friendship with former competitor Big Bill Kimmel, father of 10-time champion Frank Kimmel. "It was like time stood still," Allen said. "No one asked where I had been, what I was doing, or why I wasn't racing. Walking around with the Kimmel family immediately gained me entrance back into the world of racing. No questions asked."
The Kimmels saw Allen as a businessman and asked him to help them find them sponsors. Al agreed and was able to help secure a national sponsor, which lasted for more than nine years, keeping the Kimmels competing (eight championships in a row 2001-2009), and it kept Allen at the races.
When Allen's wife purchased an Indy Car Driving Experience for him at the Kentucky Speedway this summer, he felt like he was taking a trip back in time. The racing bug bit when they gave him some professional freedom and allowed him to exceed 160 miles per hour.
When the Wilmington airport closed, Allen heard the ultra-smooth, flat, 3-mile runway had been leased by the East Coast Timing Association (ECTA-lsr.com). Named the Ohio Mile, the three mile strip is sanctioned for Flying Mile Runs: A mile to start, and over a mile to stop. Sanctioned by both the ECTA and the West Coast Timing Association, all races are certified for national land-speed records.
Four times each year, races are held with car haulers coming in from all over the country. This summer, Allen set three speed records in his Mercedes SL500 Roadster, two records in open classes, and the one for which he is most proud, the long-standing record in D/GSS which he broke by more than 8.8 miles per hour(139.882). "Waiting in the staging line of more than 160 cars and drivers surrounded by their families and crews and waiting for our next run down the soon to be famous "Ohio Mile" is magic to me. I can't wait for my next run!" Allen said. In the summer of 2013, in Wilmington, Ohio, Allen met a new group of racers. "They took me in and guided me to a new goal that I never dreamed possible."
"I would never have thought I would be back in racing at age 70, but now I am inspired and I want to break more records, including being the oldest race car driver," Allen said.
Allen Schwarzwalder owns and operates Corporate Marketing (http://www.corporatemarketing.com) a web-based promotional products distributorship in Lebanon, Ohio, providing custom imprinted promotional advertising products to companies across the nation and has done so for more than Twenty Years. He just laughs when anyone asks him about retirement. Racing and selling seem to be in his blood. "Racing is expensive and my business is my only sponsor," Allen said.
For more information, visit his web site at http://www.corporatemarketing.com.