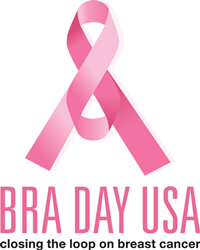 ARLINGTON HEIGHTS, Ill. (PRWEB) October 12, 2022
The American Society of Plastic Surgeons (ASPS), the world's largest organization of board-certified plastic surgeons, today announced Allergan Aesthetics, an AbbVie Company, will participate as a Diamond Level sponsor for the 11th annual Breast Reconstruction Awareness Day (BRA Day) on Oct. 19, 2022.
BRA Day is designed to put an end to the unknown by promoting public education, patient care and research. As many women who undergo a mastectomy or lumpectomy are unaware of the breast reconstruction options available to them, BRA Day events across the world bring much needed attention to these procedures and provide information to patients and their supporters.
"Breast cancer has become the most common cancer globally and potentially impacts 1 in 8 women over the course of their life," said Carrie Strom, president, Global Allergan Aesthetics and senior vice president, AbbVie. "Allergan Aesthetics' commitment as a Diamond Level sponsor is just one way we show our support. This commitment is not just something we do in October, but it is a year-round mission at Allergan Aesthetics."
BRA Day brings together ASPS, The Plastic Surgery Foundation (The PSF), plastic surgeons specializing in breast surgery, nurse navigators, corporate partners, breast cancer support groups and organizations to coordinate events on Oct. 19. These events take place across the globe and can include media events, Q&A sessions, lectures, flash mobs, fundraising parties, advertising campaigns, community events and more.
About Breast Reconstruction
Studies show that women who undergo breast reconstruction experience significant improvements in psychological, social and sexual well-being. Every patient deserves to learn about breast reconstruction options at the time of diagnosis. In fact, the two main reasons women do not undergo breast reconstruction is that patients are not referred to breast reconstructive surgeons and are not informed of their reconstructive options. Breast reconstruction is part of a comprehensive approach and treatment for breast cancer patients.
A comprehensive team approach provides a cohesive breast cancer treatment plan. Integral to this cohesiveness are the frequent breast tumor board meetings that occur to discuss each individual patient and their individualized treatment. Members of this group of specialists are breast surgeons, plastic pathologists, reconstructive surgeons, oncologists, radiation oncologists, radiologists, geneticists, nurses, patient care coordinators and more. This team approach ensures that key decisions regarding each patient's treatment are discussed and agreed upon by all team members. All aspects of care, from social to medical, are addressed at these meetings.
For more information on breast reconstruction, visit http://www.breastreconusa.org. Become educated and help educate others about the availability of breast reconstruction and why all women deserve a team approach to breast cancer treatment.
About ASPS
The American Society of Plastic Surgeons (ASPS) is the largest organization of board-certified plastic surgeons in the world. Representing nearly 8,000 physician members, the society is recognized as a leading authority and information source on cosmetic and reconstructive plastic surgery. ASPS comprises more than 92 percent of all board-certified plastic surgeons in the United States. Founded in 1931, the society represents physicians certified by The American Board of Plastic Surgery or The Royal College of Physicians and Surgeons of Canada.
About Allergan Aesthetics
At Allergan Aesthetics, an AbbVie company, we develop, manufacture, and market a portfolio of leading aesthetics brands and products. Our aesthetics portfolio includes facial injectables, body contouring, plastics, skin care, and more. Our goal is to consistently provide our customers with innovation, education, exceptional service, and a commitment to excellence, all with a personal touch. For more information, visit http://www.AllerganAesthetics.com.
About AbbVie
AbbVie's mission is to discover and deliver innovative medicines that solve serious health issues today and address the medical challenges of tomorrow. We strive to have a remarkable impact on people's lives across several key therapeutic areas: immunology, oncology, neuroscience, eye care, virology, women's health and gastroenterology, in addition to products and services across its Allergan Aesthetics portfolio. For more information about AbbVie, please visit us at http://www.abbvie.com. Follow @abbvie on Twitter, Facebook, Instagram, YouTube and LinkedIn.
###
Contact ASPS
Madison Freeman
Public Relations Coordinator
847.228.3333
media@plasticsurgery.org