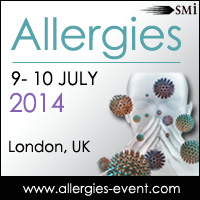 "This conference brings together speakers from academia, industry and from the clinic to explore promising future therapies.."Nose & Ear Hospital
London, UK (PRWEB UK) 25 March 2014
In recent weeks, British drug company Circassia raised £200m on the London Stock Exchange to fund the commercial launch of a promising new cat allergy treatment, which was first developed by scientists at London's Imperial College.
Following on from this Imperial College London will be updating attendees at SMi's inaugural Allergies conference taking place on 9th and 10th July in Central London, UK.
The event will feature three presentations from the college entitled:

Targeting memory The2 cells in allergic diseases, from man to model
Prof, Ashton –Rickardt, Chair in Immunology
Allergen-specific immunotherapy: current and novel approaches
Dr Guy Scadding, Clinical Research Fellow, Allergy & Clinical Immunology
Mechanisms of SLIT: The role of dendric cells
Dr Kayhan Nouri-Aria, Lecturer, Allergy & Clinical Immunology
Speaking about his presentation, Dr Nouri-Aria commented:
"You will understand how the allergen is uptaken by professional APCs and transported to the local lymph nodes to induce tolerogenic immune responses ie the way in which SLIT works"
The conference will feature a mix of case study led presentations, networking opportunities, an interactive workshop, and keynote addresses. SMi have worked in partnership with an expert advisory board which includes KOLs from Imperial College London, Swecure AB and GSK, to put together a programme that has been tailored to an audience of professionals working in the allergy market from drug design through to diagnosis and treatment.
Other sessions will include presentations on toll-like receptor agonists, atopic dermatitis, severe allergic asthma, developments in food allergy treatments, challenges in allergy prevention and drug development plus much more. The brochure is available online at http://www.allergies-event.com
Conference Highlights include:
Case study presentation from GSK on new therapeutic tools for allergies
Clinicians' perspective – advances in allergy diagnostics featuring Royal Free Hospital and Imperial College London
Case study on the success of peanut allergy trials
New breakthroughs in allergy treatment
Analysis of current and novel approaches in allergen-specific immunotherapy
Confirmed attendees so far include: MedImmune, Novartis, Biomay AG, NIAID and Quintiles.
For those that are interested there is currently a £300 early bird discount available online. Visit http://www.allergies-event.com
Allergies: Analyse industry developments and the future of allergy therapeutics
9-10 July 2014
Holiday Inn Hotel Regents Park, London UK
http://www.allergies-event.com
Note to Editor:
SMi's Linkedin Allergies Community has been created for professionals, academia and scientists involved in the allergy industry to discuss diagnosis, novel therapeutics and clinical developments targeted towards the treatment of allergy. To join visit [http://linkd.in/OV53jM
About SMi Group
Established since 1993, the SMi Group is a global event-production company that specializes in Business-to-Business Conferences, Workshops, Masterclasses and online Communities. We create and deliver events in the Defence, Security, Energy, Utilities, Finance and Pharmaceutical industries.
We pride ourselves on having access to the world's most forward thinking opinion leaders and visionaries, allowing us to bring our communities together to Learn, Engage, Share and Network. We hold events in over 30 major cities throughout the world including London, Paris and Singapore and to date have welcomed over 200,000 participants from 80 countries. More information can be found at http://www.smi-online.co.uk